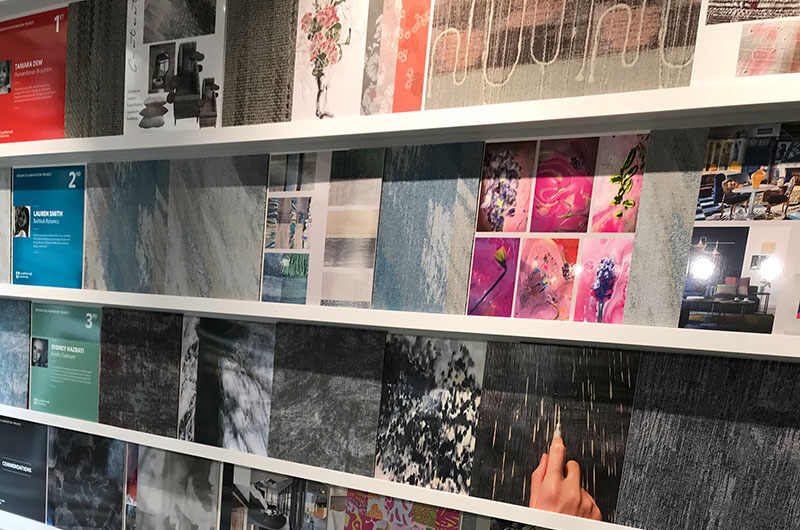 Reading Time: 6 minutes
Milliken is a company passionate about design. We love what we do and are inspired by the power and beauty that meaningful design can deliver. Our floor coverings bring together the spirit of innovation and engineering excellence with the creativity and inspiration of our local design teams. Milliken's in-house design team has evolved over the years and as our experience grows, we need to be mindful of investing in the team's future. We need to support the creative education hubs and courses that have their roots in our own career beginnings.
Art and design further education courses are still very popular with school leavers, but they are facing a drop-in number with fewer creatives applying. This could be due to several factors including lack of funding, course fees or employment outcomes. As a large, creative manufacturer we have a responsibility to support and invest in art and design. We are able to promote the opportunities for employment and provide creative career possibilities for design graduates.
2019 saw us take our commitment to supporting the future of design one step further as we embarked on a collaboration with Loughborough University of Arts. The University has many core values and commitments that both Milliken and the design team felt very passionate about.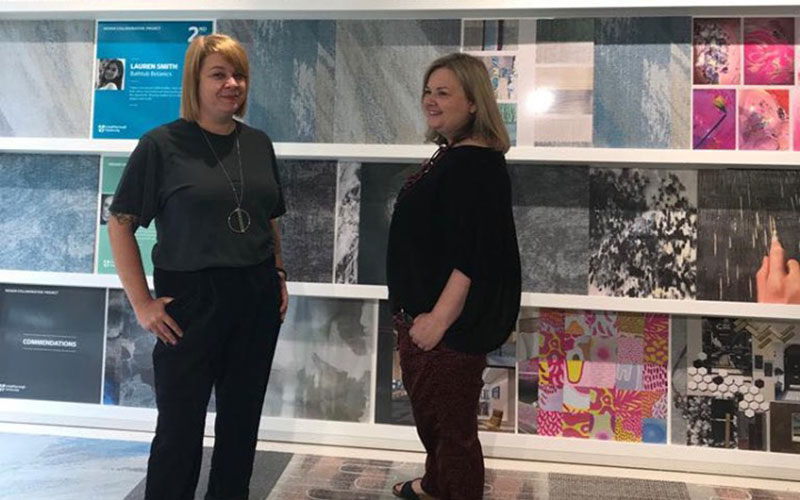 Kerry Cottam, Senior In-House Designer & Claire Kimble, Senior In-House Designer talking through the students' work
Working together, Kerry Cottam, Custom Design and Visualisations Manager, and I relished the thought of going back to a 'school of art' that would be full of creative spaces, where we would find print tables, weaving looms, dye vats and wall spaces expressing creative ideas that were both free and conceptual. Coming from both weave and surface design backgrounds this was an exciting opportunity for us, as carpet designers, to share our creative thoughts and explore new directions with the students.
The group of 52 students were following weave and print pathways in the 2nd year of their BA (Hons) Textiles: Innovation and Design degree course at Loughborough University of Arts.
''A totally collaborative project''.
One of the key objectives for Kerry and I was to make sure this was a totally collaborative project. This meant that it had to be very hands on and interactive, an opportunity to give one to one time to all the students as they progressed through the project. It was important everyone had an opportunity to talk ideas, peruse through sketch books and get those glimpses of sparkling potential that we would later see converted into the final presentations. This collaboration was just as fulfilling for us as it was the students, as we were able to mentor with industry experience and a commercial view.
Setting the brief together with Loughborough's Art & Design lecturers we incorporated carpet tile design into the students chosen pathways of weave and print. The introduction of carpet as a textile medium was something we believe many of the students had never considered, a new surface to get creative with. Within an interior space the flooring would naturally sit alongside other furnishing materials such as woven and printed fabrics, wall coverings, textile art and 3D surfaces, perfectly fulfilling a textile design brief.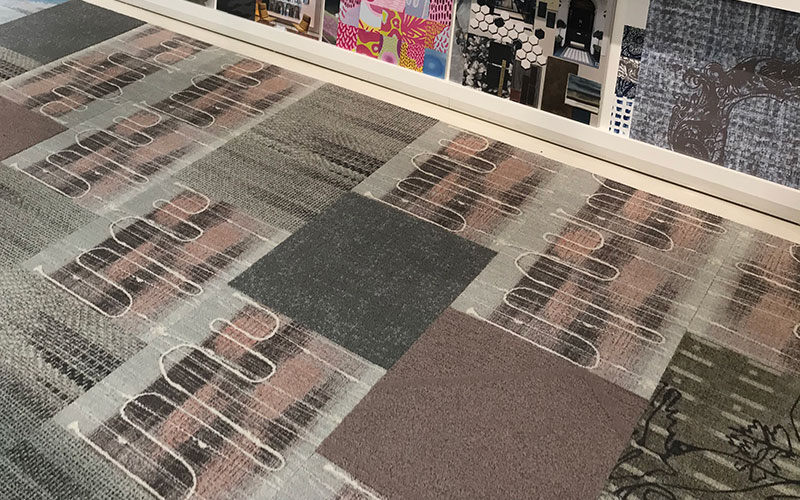 Student designs working fabulously together on the floor in the Milliken Showroom.
Loughborough's lecturers Christina, Emma, Jenny, Ken Ri and Kit, in partnership with Kerry and I, crafted a design brief that encouraged the students to channel their creativity into designing commercial concepts that would be manufactured using Milliken's proprietary patterning technology, Millitron®.
The brief was to design a range of textiles suitable for a high-end interior for SS20 or AW20, including a carpet tile(s) for Milliken. There was a choice of three clients, iNetTech, Number 45 or Well-Work, and the students were asked to relate their design work for these clients to one of the following interior themes, Floral Juxtaposition, Industrial, Navigation – Destination or The Future is Urban.
Hotels, offices or public spaces gave a context for the interior space and the designs had to take into consideration many different factors including:
History and heritage of the client
Building occupant profile
Core values around Corporate Social Responsibility and environmental sustainability
Regional influences
Well-being in the workplace
The importance of biophilic design
"We hoped to see an interior space that was innovative, fulfilled the brief and played with colour, texture, repeat pattern and scale. All with a sense of commercial creativity."
All the students were encouraged to express their conceptual ideas using colour, sketches, painting and personal stories, not dissimilar to our own starting points as designers here at Milliken. We wanted to encourage independent thinking whilst still designing for a commercial client.
We revisited everyone at Loughborough on several occasions throughout the semester. Review workshops enabled us to indulge in the student's project updates and get inspired as to where the projects were going. Sometimes the start ideas traveled and evolved greatly, the journey would flip and take an unexpected route with us being totally inspired by the results. Other times strategic planning saw the design concepts unfold with a knowledge as to where they would go. It was such a creative experience, being able to advise, discuss, laugh and work with all the students collectively.
Judgement day arrived and we assessed all the projects submitted by the students. We were joined on the judging panel by fellow colleagues at Milliken, Alison Kitchingman, Director of Marketing & Design and Jeremy Graham, Vice President HR Europe.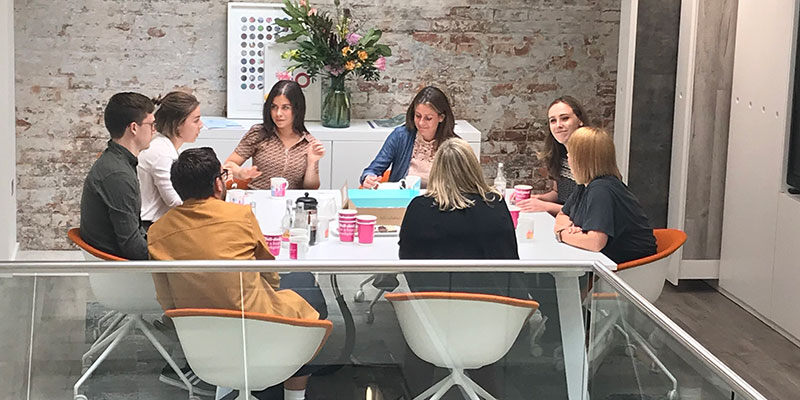 The students with our designers in the Milliken Showroom.
To be able to see all the ideas, advice taken and translated, final lengths of fabric, weaves, interior spaces and carpet designs was amazing. So much cohesion, design reason and theory, combined with clever colour palettes, large scale murals, hand painted textiles, and beautiful yarn combinations, made for an impressive collection of work from the year.
It was difficult to decide upon the winners, how do you take 52 down to only three? So, we considered making some commendations too. We managed with heavy hearts to narrow the numbers down to just nine.
We're delighted to present the three winning designs below: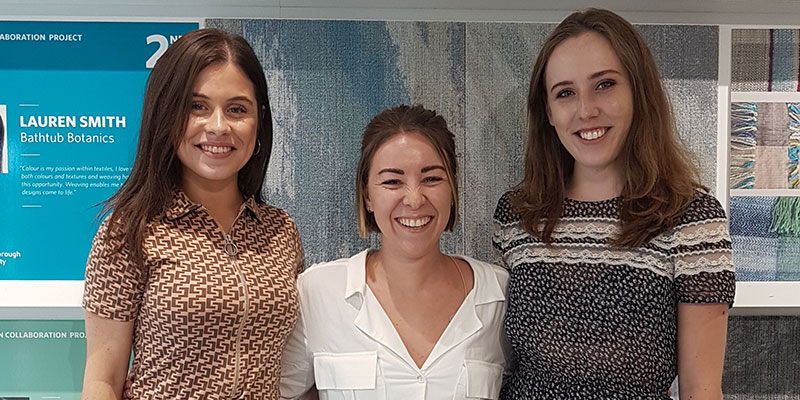 Congratulations to the very worthy winners
Left to right: Lauren Smith, Tamara Dew and Sydney Hazrati
Tamara Dew – Winner
In Tamara's own words, her story of Humanitarian Biosphere, focused on sustainability and well-being. The supporting weave collection features structures that are simple but beautiful, not over-complicated, they encourage a simple way of living. The colour palette balances the line between current trends and the psychological effects they can have in a workplace such as easing tensions and encouraging productivity.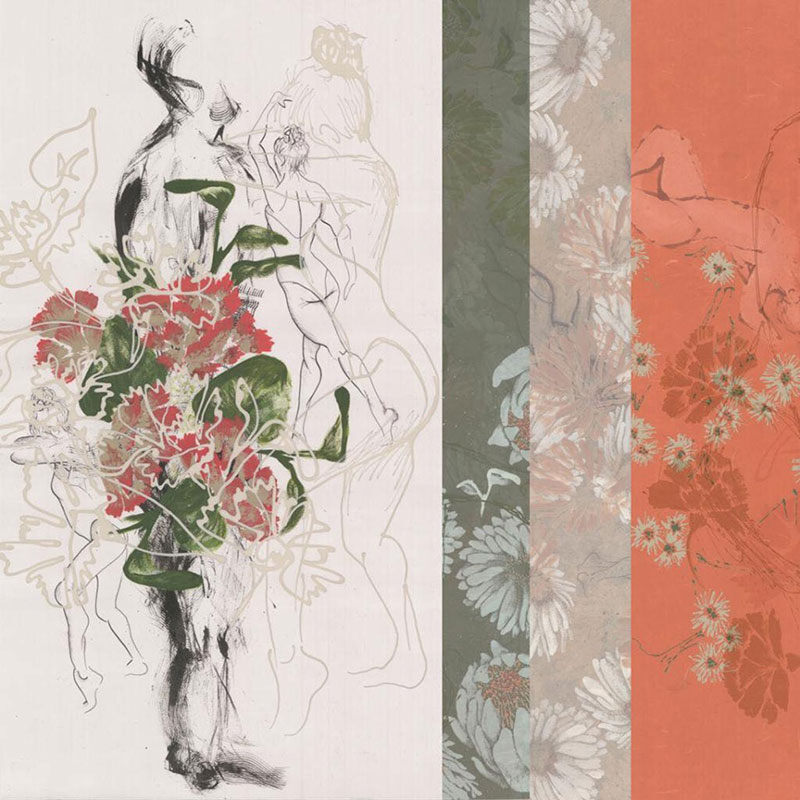 Tamara's designs.
We felt that the translation from Tamara's designs to carpet worked wonderfully, the colour palette is both reflective and would not be out of place within any workplace interior we see today. The designs really create the balanced collection of carpet. The three designs coordinate well as a trio but are different enough to denote zones and areas within an office space. We all agree that the sustainability/well-being story is key in today's workspace, a drive behind Tamara's collection and a subject she is very passionate about.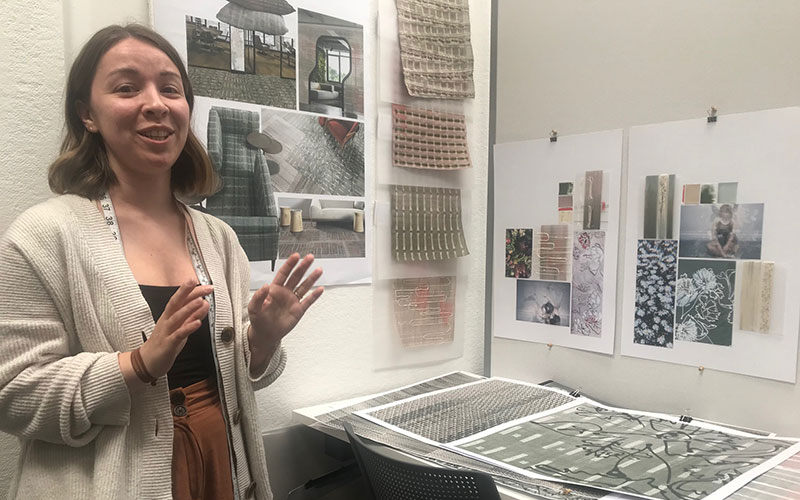 Tamara delivering a very detailed explanation of her design inspiration
Lauren Smith – 2nd
Lauren's story of colour and fun is reflected in Bathtub Botanic's, a collection that draws from natural traditions of beauty and British florals intertwined with powerful explosions of optimum colour. Lauren's style of working is very abstract, she love's letting the colours run across her paintings, which was a theme that offered a true representation of her signature style.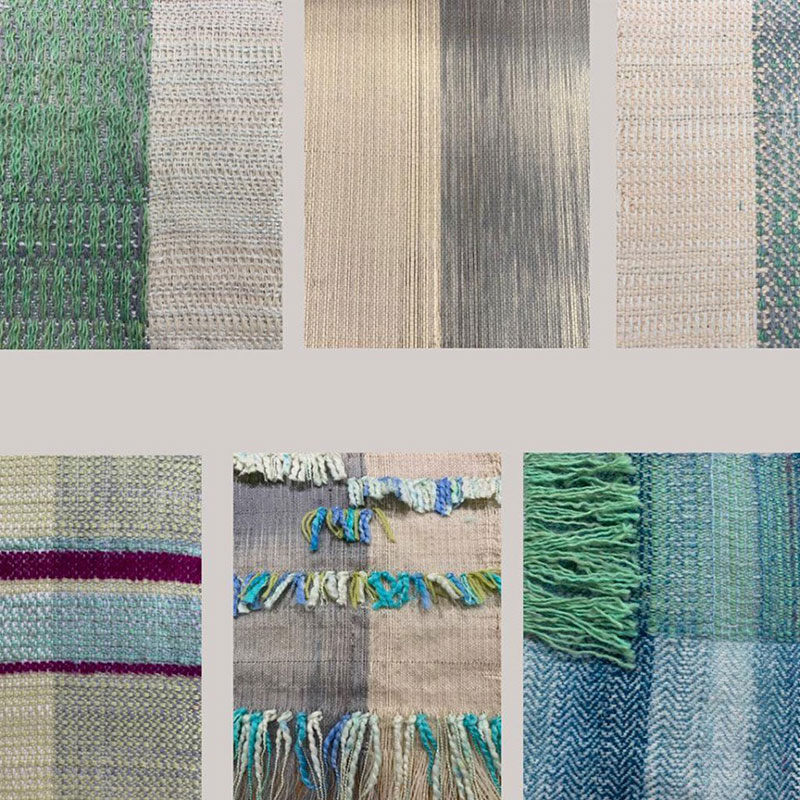 Intricate and detailed weaves in a colour of beautiful bath time waters
Lauren's photography of her florals mixed with quirky coloured bath time waters set the stage for a hospitality collection that is both commercial and fun. The tie-dyed warps of her weaves set the stage with their vivid expression which are once again reflected within her carpet designs but with a subtle palette change that works well within the floorplane. We felt the stage setting was very strong with her installation interiors, giving the client a clear understanding of expectations and the designs themselves flow effortlessly from one to another.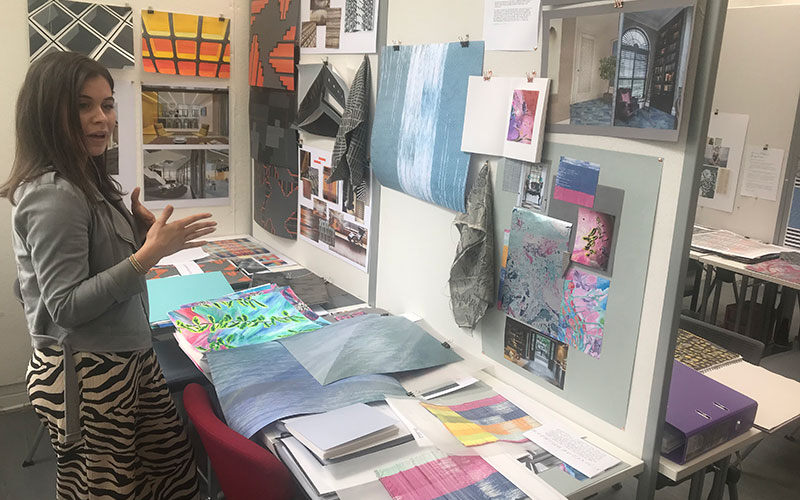 Lauren presenting her work to the Milliken judging panel
Sydney Hazrati – 3rd
Kinetic Landscapes
Sydney initially began exploring landscapes and forest trails to gather primary research with the aim to bring the organic into the office environment. She found that the still quality of the photographs was unable to convey the atmosphere of actually being in nature. Incorporating the sense of movement into her photographs conveyed rhythm and excitement and energised the viewer. From these photographs Sydney developed a range of drawings that explored shape, texture and mark making. There is a linear quality to the drawings which is inspired by the light trails seen in the photographs also inspired by the work of Katsutoshi Yuasa who uses traditional Japanese Woodcut.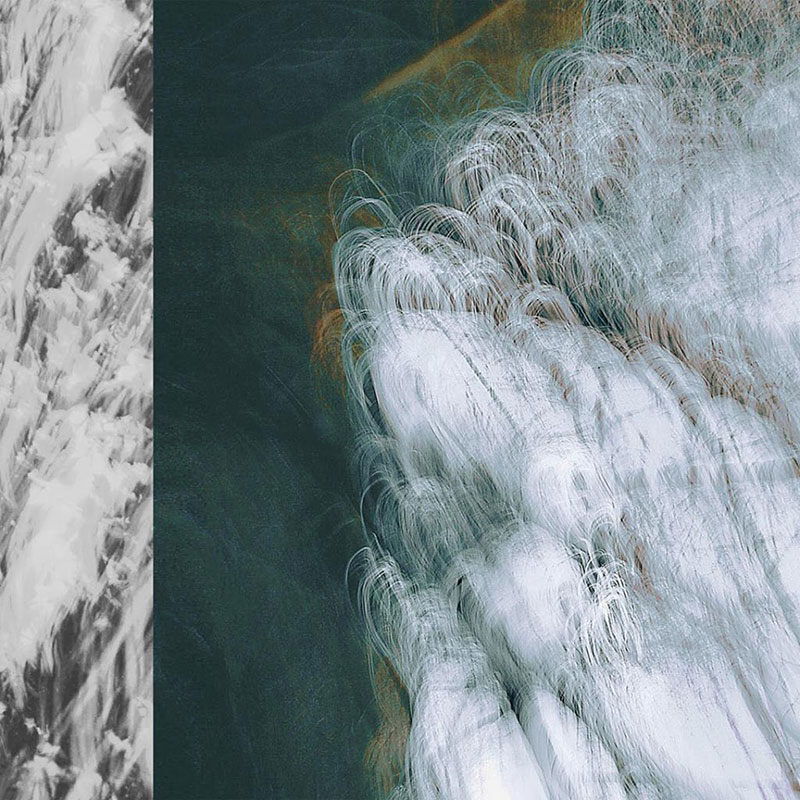 Some of Sydney's statement designs
We really loved Sydney's motion photography and mark making. They are strong pieces of artwork and provide a fantastic starting point for any design collection. The movement captured tells a story that really lends itself to being translated into textiles. The mark making coordinates and merges with the textures of her chosen fabrics. They flowed and moved, giving a very natural feel to textiles and wall coverings within the working office environment. It's a design very biophilic in approach and look. The translations onto carpet worked well, giving the client a true feeling of well-being and nature.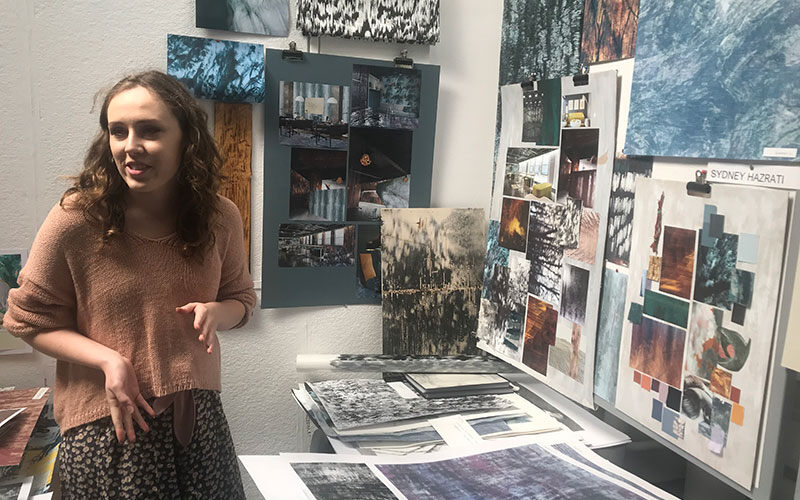 A display of statement mark making as Sydney took the judges through her design story
Commendations were also given to Abbie Watson, Charlotte Silk, Chris Griffiths, El Stilitoe, Katie Chapman and Hollie Molloy-Westrop.
The three winners joined us for an enjoyable day at our Milliken Showroom in Clerkenwell where we celebrated their amazing achievements and design work. We translated the three winners designs into modular carpet which now appears in the window of our Clerkenwell showroom. The designs work well together, the stories, artwork and interior installations all reflect the talents of these creatives and their careers to follow. We are proud of our collaboration with Loughborough University of Arts and our new friendships made with the lecturers and students. We look forward to seeing our winners progress as they move into the final year of their degrees - talent to be nurtured and watched eagerly.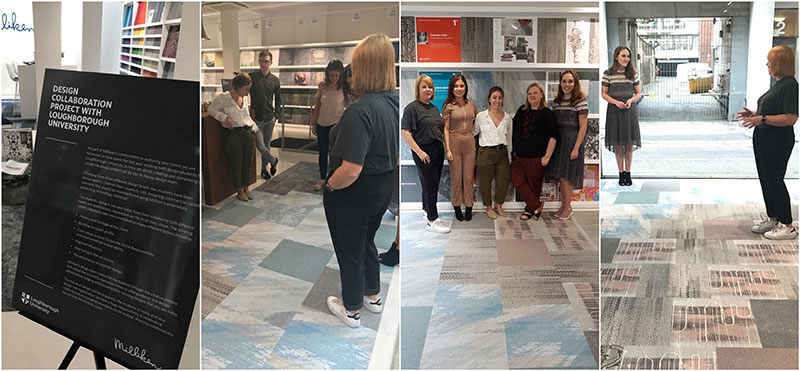 The students in our London showroom.
We are sure the partnership with Loughborough University of Arts will begin again next year with new faces and great ideas. The future of our in-house design team will be shaped by the students of today and as a design-led organisation we have a huge responsibility in celebrating creativity and encouraging boundaries to be pushed.