As businesses and employees anticipate a return to commercial workplaces, employee's wellness is a high priority. Design plays a big part in ensuring that a safe haven can be created indoors, and while it might not be the first thing that comes to mind as you think about improving the air quality in your building, flooring plays a surprisingly important role in creating a healthy building environment.
Making wise flooring choices can help mitigate airborne contaminants and ensure a safe workplace. Traditionally aesthetics, comfort and noise abatement have been the key factors in choosing a commercial building's flooring products. But in today's post-lockdown and health-focused environment, building owners and managers are wise to put "improves air quality" among the top of their selection criteria for new flooring.
Did you know that on average, we spend 90 percent of our time indoors—much of that at work—and what we're exposed to impacts our health in ways we might not even be aware of. Lighting can cause sleep problems, air pollutants can cause headaches and respiratory issues, and noise can raise heart rates and increase stress hormone levels. But it doesn't have to be this way.
Start from the ground up.
Just as the pandemic has reinforced our habits of regular and thorough handwashing, it has also brought to light the importance of good indoor air quality.
Nowadays, the office has changed to somewhat of a flexispace for workers, as employees choose to work from both home and the office. Social interaction can be extremely appealing to workers when it comes to heading to the office as opposed to working remotely from home, but the office environment must mirror this positive impact on wellbeing.
Indoor air quality is one of the major environmental health concerns related to building interiors. Carpet tiles can help collect dust particles that usually would circulate in the air we breathe. Milliken has the largest in-house textile research facility in the world and continuously researches possibilities to promote indoor health quality.
Another surprising statistic revolves around what corporations spend their money on. On average, 90% of a company's operating costs is spent on people (salaries and benefits). When you spend 90% of your resources on people and people spend 90% of their time in buildings, the intersection of these facts (time and money) creates an obvious and compelling value opportunity and potential Return on Investment (ROI).
What are the Advantages of using Milliken Flooring?
Milliken's floor coverings bring together the spirit of innovation and engineering excellence and through thoughtful design, over four hundred of their modular carpet designs and colour options are now carbon neutral hankThey create floor coverings that are as functional and sustainable as they are inspiring and original.
Protection that Leads the Way
Great architecture and design isn't just about managing all that goes into an effective, attractive space. It's also about what's intentionally kept out. That's why the Protective Flooring experts at Milliken created OBEX™, a comprehensive entrance system with a range of proven Forms and Materials. This is vital to implement in any space, especially due to the pandemic. Keeping unwanted dirt, particles, and moisture out is crucial to a safe environment.
Distance is key when integrating an entrance flooring into any space. Research shows that three meters is good and should be a requirement. Based on research from the Carpet and Rug Institute (CRI), you'll see that going up to six meters to capture 80% of all dirt, debris, and moisture entering a building, and going up to twelve meters will capture nearly 100%.
At Milliken, the AIR Pollution Infiltration Management feature focuses on minimising the introduction of pollutants into indoor air at the building entrance and this feature follows the requirement of three meters of entryway system in the primary direction of travel. The OBEX™ design ensures that all zones are covered. Zone one traps grit, heavy dirt particles, and moisture, including snow, salt, and sand. Zone two collects dirt, debris, and moisture, with a dual-action product, and zone three removes remaining moisture and small particles.
The Full OBEX™ range, perfect to integrate into any space to ensure unwanted particles, dirt and moisture stays away and offers a solution for a cleaner and safer environment.
Improving health and safety and contributing to improving the sustainability of the world is at the core of Milliken's philosophy of 'doing good ' for the world. Milliken has been a leader in sustainability for more than a century. In fact, Milliken's first recycling policy was established in 1900, and by 1960, Milliken had formal policies in place to protect natural resources.
Milliken believes that a healthy company and a healthy earth are vitally linked and accountable for the highest ethical standards. Therefore, they have been listed by the Ethisphere Institute on the World's Most Ethical Companies for the past 15 years. Milliken has also partnered with Healthy Seas, a Journey from Waste to Wear. The goal of healthy seas is to extract discarded fishing nets from the seas and regenerate them into a high-quality ECONYL® line, which is then converted into brand new products such as the Milliken carpet.
Whenever possible, carpet is reused to reveal its full value. In 2008, Milliken became a founding member of Carpet Recycling UK (CRUK) and is now working with CRUK partners and other organizations across Europe to restore returned carpet tile for use in voluntary sector organizations. small businesses and schools. In other cases, the carpet is recycled into construction products and plastic mixtures.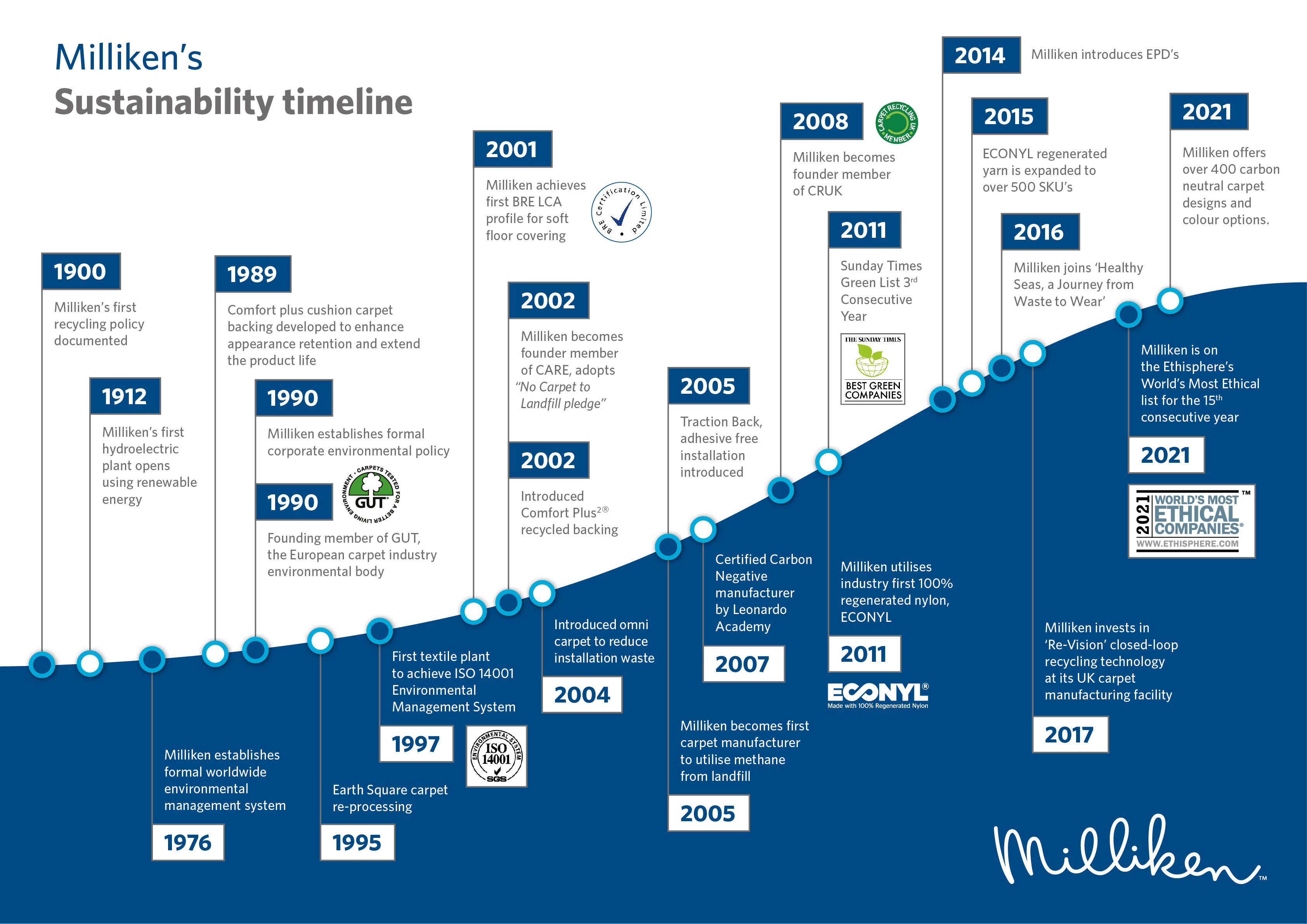 Milliken's Sustainability Journey
Milliken has been researching, discovering, and creating ways to improve people's lives since 1865. Family-owned Milliken & Company is now 155 years old and 'our purpose is to fight together to make a positive difference to the world around us for generations to come.
Milliken is a different kind of innovation-driven company that is dedicated to designing. So why not turn to Milliken today as your number one provider of carpets and floor coverings and create not only a safe environment but one which is functional, sustainable, and beautiful.