The goal of any entrance flooring system is to safely trap and manage dirt and moisture when entering a building to create a safer, cleaner, and healthier environment. If not thought out properly and designed with intent and care, it could be detrimental to wellness and even finances.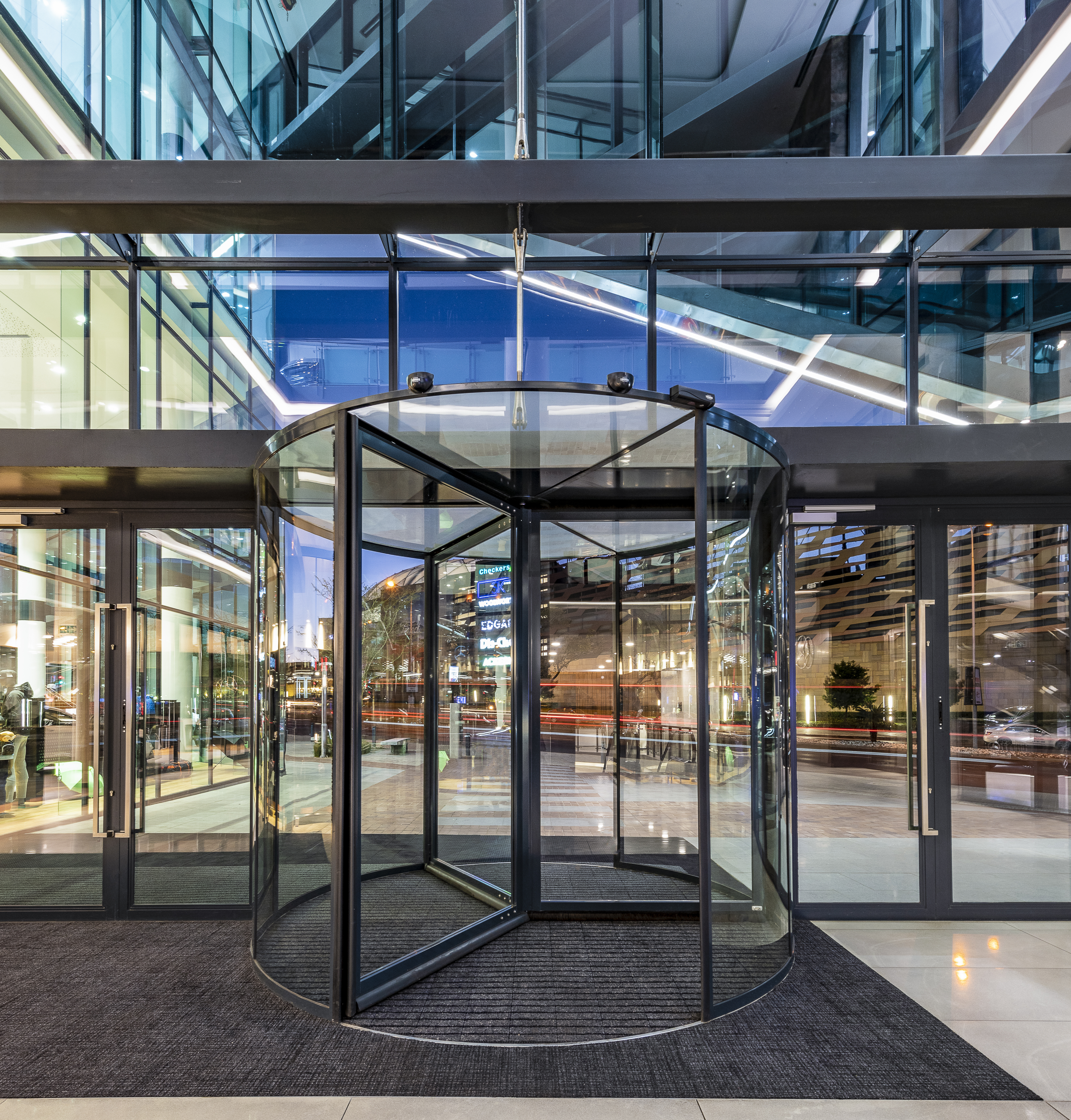 A 'Safer' environment may not sound like the most exciting way to approach design, but it's essential to reduce the risk of an injury due to a slip, trip, or fall. A 'Cleaner' environment is vital to maintain the overall look and aesthetic when planning out the interior of any space. And, a 'Healthier' Environment - to maintain the indoor air quality circulated throughout a facility is also paramount.
These three factors need to be at the forefront of your design process when planning out the entrance to your space.
Did you know that 70% to 90% of the soil entering a building is "walked in" through the front door. This can total as much as 10 kilos by 1,000 people when no entrance flooring product is installed.
Installed facilities with entrance flooring systems have many advantages. They can keep them cleaner by stopping dirt, debris, and moisture at the door and extending the life of flooring throughout the facility.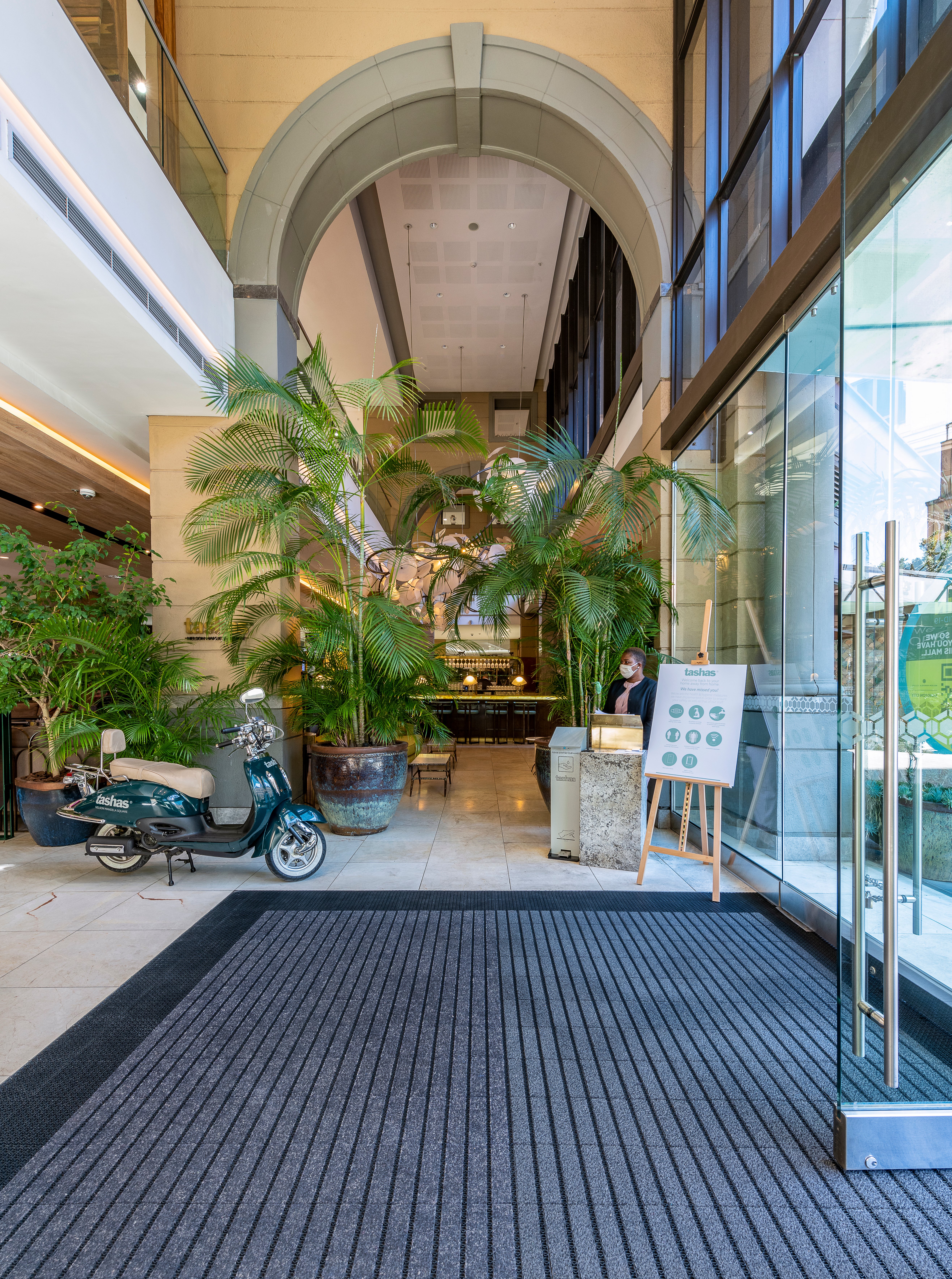 Designing With Safety In Mind.
Did you know that Slips and trips are the most common cause of major injuries at work, 95% result in broken bones. Creating a suitable entrance space can help remove dirt, debris, and/or moisture on the floor. Planning your entrance with the right flooring system can also ensure a lack of movement, rippling or curling of loose-laid mats.
Let us now consider the Health aspect. Both LEED and The WELL Building Standard v2 have entrance flooring as a contributing factor to maintaining a healthy facility. Particulates that are brought into an unprotected facility will have a negative impact on the Indoor Air Quality within a building. Research shows that users can introduce this matter through their clothes and on their shoes, and can even include harmful toxins - such as E. coli, among other toxins. Other research estimates that approximately 65% of outdoor air particle inhalation occurs while indoors due to the circulation and airflow of particles "walked in" from the outside environment.
Invest In A Better Entrance- It Pays To...
The Health and Safety Executive calculates that injuries from slips and trips cost employers £512 million per year in lost production and other costs
They also estimate a cost to the health service of £133 million per year
The incalculable human costs should also be taken into consideration
It is estimated that it costs approximately £1,120 to remove 1 kilo of dirt from a building in terms of cleaning. If you recall, the average amount of dirt brought in for every 1,000 people is 10 kilos. That can start to add up and 1,000 people, particularly for a high traffic installation like an airport can add up quicker than you think!
In an office setting, if you consider how often the average person enters and leaves a building each day. Going out to get some lunch? A meeting? An appointment? It can be considerable.
It is also estimated that for every additional £1 you spend on keeping soil out of a building, (ie. The cost of an effectively engineered barrier product) will proactively save £10 in soil removal once inside, due to a reduction in cost of cleaning dirt, debris and moisture.
As well as have a knock on effect on your budget, you will also find it affecting the overall look of your space. Heavy foot traffic can have a harsh effect on floor finishes within the building. The ISSA (International Sanitary Supply Association) calculates that foot traffic from 1,500 people can remove 42% of a floor's finish within the first 1.8 metres.
The cost of a hard surface and the finishing that comes with it can be quite costly, and reducing the wear to increase the life span of the internal flooring can be highly beneficial.
It is essential when specifying an entrance flooring system to take a strategic approach to space. This means developing a complete understanding of the precise role you need the system to perform.
An effective process for this would be to understand:
What is your objective? – ie. What do you need your entrance area to do? So, factor in variables such as weather conditions and the amount of foot and rolled traffic coming into the building
What is the required barrier level? – Where and to what degree do you need protection? It is essential to assess each Zone along the entrance pathway, including vestibules and lobbies, and determine the linear distance available.
Thirdly, Enhancements - What look and style do you want? Review the options for colour and pattern, coordination with other interior flooring products and finishes, and any identity branding you may want.
Finally - Execute – Based on the outcome of this review, identify and implement the most effective, customised entrance flooring system.
Once you have answered these questions, you can start planning out your entrance in three sections to optimise space and create distance.
Zone 1 is the exterior or outside of the building that is just before the door as a person enters. The most effective product here has heavy scraping action and recommended cover for this installed area is beneficial.
The goal here is to trap grit, heavy dirt particles and moisture, including snow salt and sand.
Zone 2 is the vestibule or airlock that is an enclosed entrance of the building.
A dual-action product that combines both scraping and absorption will be your most effective product and always takes advantage of the entire space.
The goal in Zone 2 is to continue the collection of dirt and debris with the bonus of moisture to enhance your entrance systems performance level further.
Zone 3 in the interior or indoors of a building is the primary area(s) within a facility.
A product with high absorption qualities is best to incorporate and install into field flooring, eliminating the concern for a trip hazard. The goal in Zone 3 is to remove any remaining moisture or small debris particles that could be tracked in.
Interested in learning more about how to design your entrance with a results-driven approach and incorporating Milliken solutions? Contact us today to speak to a representative.