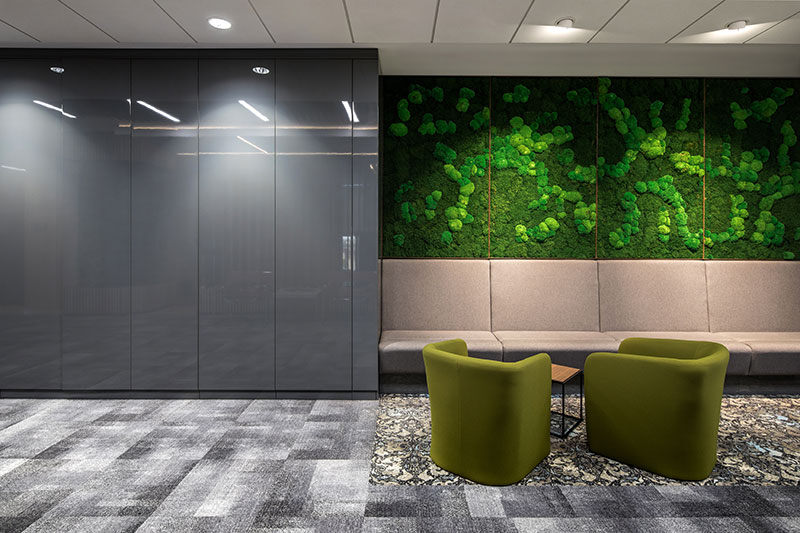 Reading Time: 4 mins
The b-word 'biophilia' has become the latest buzzword to enter the vocabulary of architects and designers alike as we're slowly seeing the transformation of workspaces changing from grey to green with the introduction of plants, foliage and living walls.
It's been proven that the presence of plants and greenery within an interior environment can have a profoundly positive effect on the productivity, mental health and happiness of its occupants but the term 'biophilic design' can pack more of a punch if we explore the concept further than just the addition of workplace flora.
'WE SPEND MORE THAN 90% OF OUR TIME INDOORS'
Although a statistic that's well cited and reported on, the reality and impact of what this statistic equates to never fails to shock. Initially you may think 'no, that can't be right', but when you really think about it, between sleeping, commuting, working, gymming, etc. you begin to reach the 90% pretty quickly. Then, take into consideration that as a human being we have a physiological need and desire to be in contact with nature and the natural world. As a result our work environment is having a detrimental effect on our health and happiness.
As a commercial floor covering manufacturer, we have a huge responsibility to design and manufacture products that can help us connect with the outside world, because if we aren't actually outside enjoying the great outdoors, we need to make people feel like they are. Here are five ways in which Milliken can help you design a beautifully biophilic interior scheme, which will make for a healthier and happier workforce:
1. A colour palette inspired by nature
The word biophilia is usually synonymous with the colour green, inferring a literal interpretation of bringing the outside in. But the natural world offers such a vast and rich array of colour, that can lighten and brighten an interior scheme. Milliken's breadth of colour is second to none. From aqua pools, to rich and earthy russets, pomegranate tints to painted skies, the workplace can be transformed into a haven, inspired by nature's palette.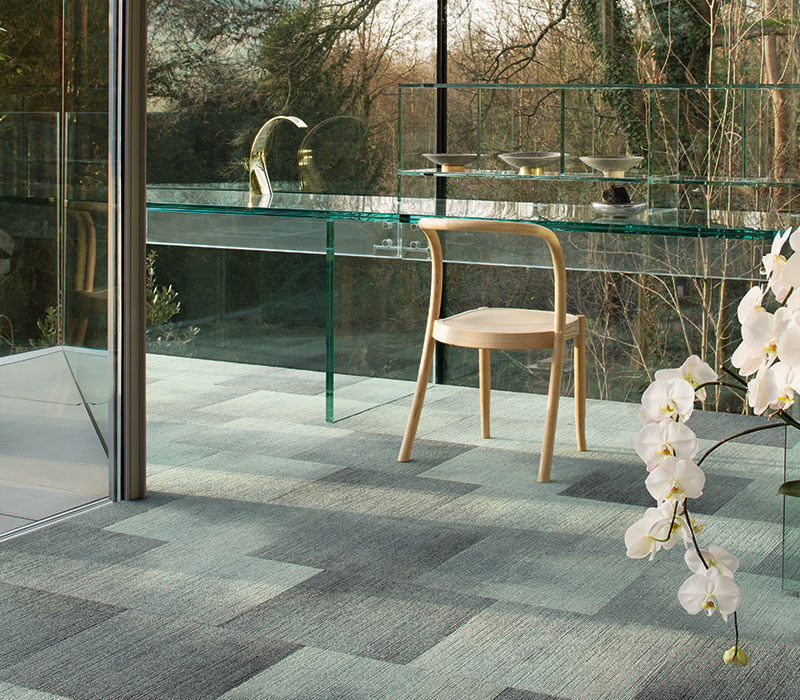 2. Organic, free-flowing designs
Biophilic design can help improve the overall mood and ambiance of a workplace. Milliken's wide-ranging portfolio features a host of collections made with proprietary Millitron® digital patterning technology that is uniquely capable of creating free-flowing patterns with the smooth transitions seen in nature. When observing landscapes and the outdoor environment you don't often encounter harsh repeats of patterns, nor should you in the workplace. A smooth blend of organic pattern and colours that mimic the outside world can be imaginatively embraced and brought inside to lift workspace spirits.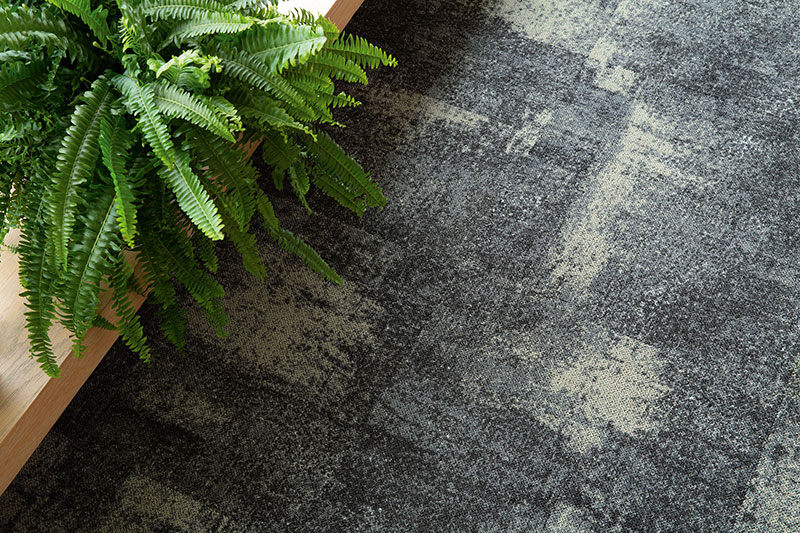 Collection - Comfortable Concrete 2.0
3. Tufted textures
Replicating the undulating surfaces found outside, Milliken's floorcoverings can create dramatic statements across the floorplane such as the crevices and paths formed by ice and water, or the rise and fall of rolling landscapes through the use of our state of the art tufting technology. What's more, through the combination of inspired design and the power of technology, we can create the illusion of texture across the floor. Moss covered concrete slabs, lichen encased pathways, the lapping shores of a blue lagoon, we can create them all, allowing you to unleash your creativity.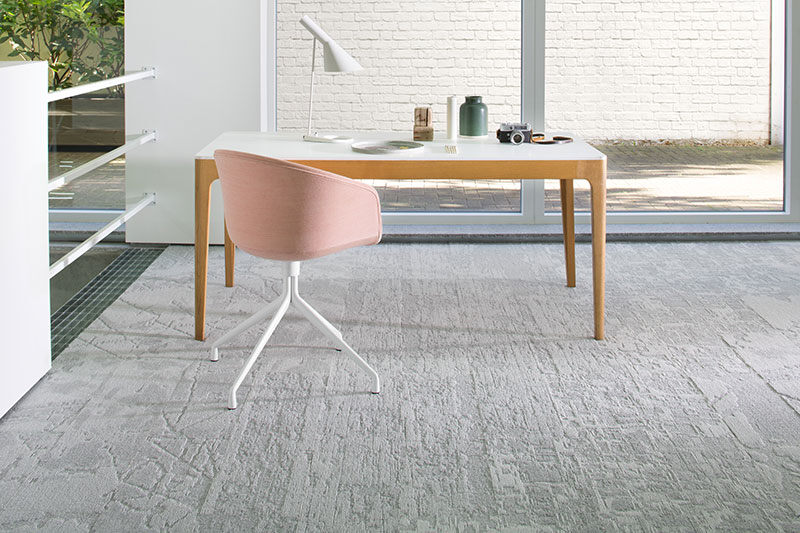 4. Natural materials
There is a desire to surround ourselves with things derived from nature. Heritage wood floors, mimicking the aesthetic of natural materials and authentic stone effects with deep and embossed textures, as offered in our commercial luxury vinyl tile range, are an effective and easy way to create a biophilic inspired scheme. Coupled with the more abstract carpet designs inspired by nature's landscapes you can create a calm and tranquil place to work.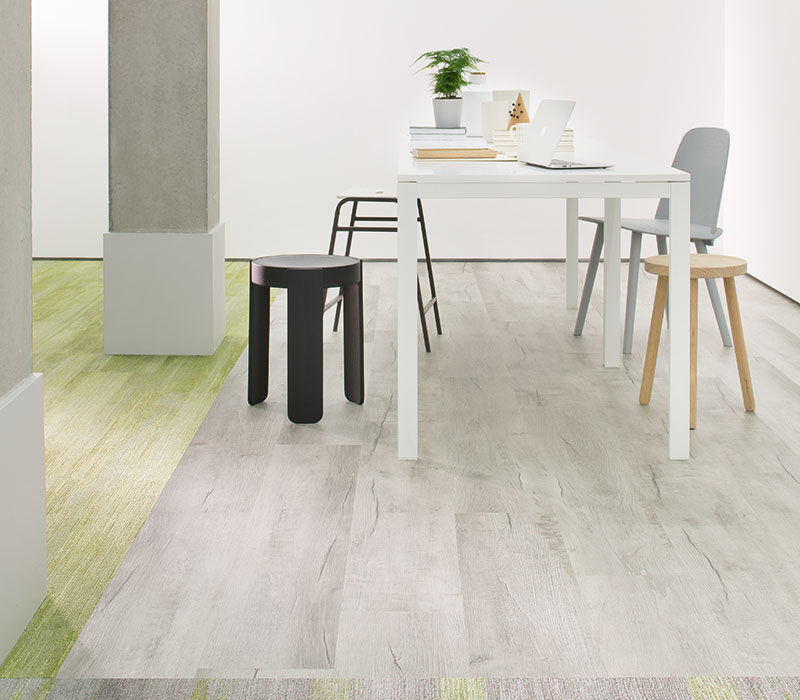 5. Variety is the spice of life
Different views and vistas can inspire, excite and increase your happiness. This same philosophy should be adopted within the workspace. With over 1000 colour and design options to choose from, the office environment can become the place to incite creativity, productivity, and better staff engagement just through the flooring choices you make. Imagine a panda, kept all alone in a bare, soulless cage. It would make for a very sad and distressed panda. And humans are just the same.
Dr Craig Knight from Exeter University, studied the effects of soulless drab working environments for more than 10 years. Knight says he had wondered for years why the business world had persisted with the trend for sparse office. "If you are working in an environment where there's something to get you psychologically engaged you are happier and you work better," Knight said.
So in conclusion, let the floor be that 'something' that makes your clients and workplaces happier. 😊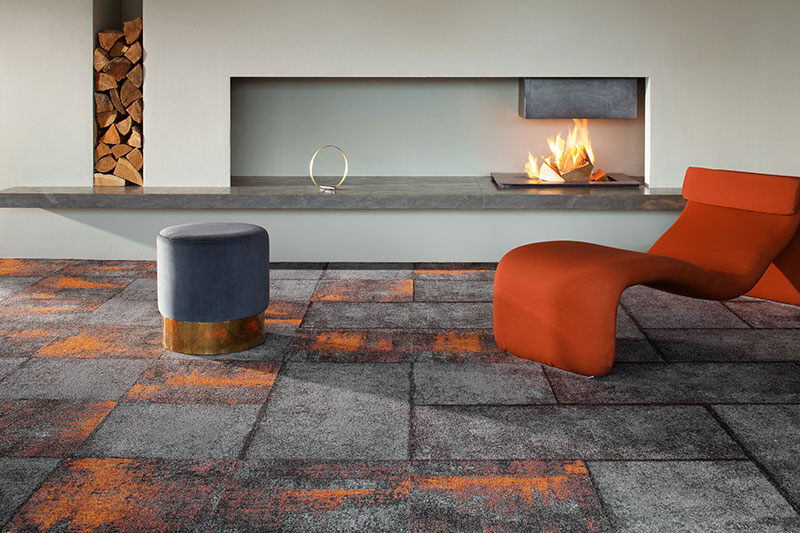 Collection - Comfortable Concrete 2.0
If you've been inspired to learn more about biophilic design or have a fantastic biophilic project you'd like to share with us, connect with us on social media: Facebook, Instagram or Twitter.
Header Image: Deloitte HQ - Romania - Collection - Artistic Liberties