What better place to seek out and support new design talent than at New Designers 2019. Milliken's Senior Designers, Claire Kimble and Helen Lloyd spent an inspiring day perusing the work of some of the most talented graduate design students from across the country.
This year's showcase communicated a strong sense of freedom and a confidence in students' expression of ideas. Maybe a nod to the state of nation and political climate, humour was apparent in a lot of pieces along with tongue in cheek statements. But whatever their point of inspiration or reference for the students' work, a strong commercial awareness was apparent, showing the ability to take an idea from infancy through to a market ready product.
If you weren't able to attend yourself, fear not, as here are some of Claire and Helen's highlights:
Minty Jowett - University of Falmouth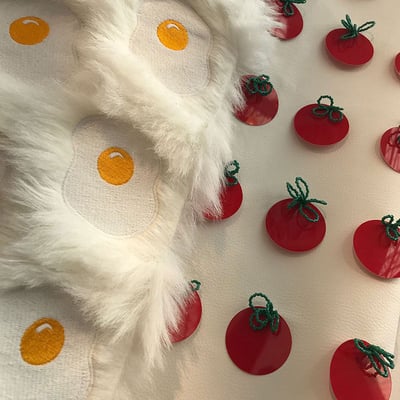 The concept of celebrating the "English Breakfast" and all its elements made us smile from ear to ear. Mixed media, print, embroidery all conveyed in a collection of menu forms, breakfast connotations together with the odd knife and fork thrown in for good measure. Fun, extremely visual and a little tongue in cheek, what's not to like!
---
Kirsty Tabern - University of Central Lancashire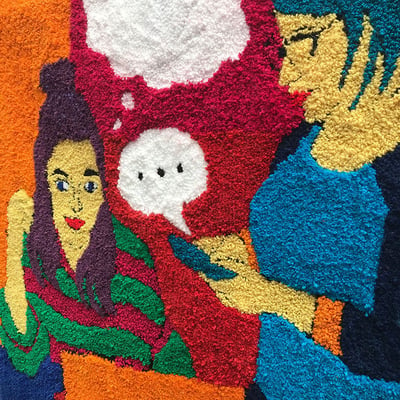 Bold colour and figurative forms explore the everyday message of how social media creates a virtual bubble that isn't always reality. The bold black outlined figures are translated into soft tactile rug images that explore colour and create people portraits that really catch the eye. Three dimensional textiles you really want to touch depicting a world that isn't tactile and is seen always in 2D appealed greatly to us.
---
Amy Carter - Duncan of Jordanstone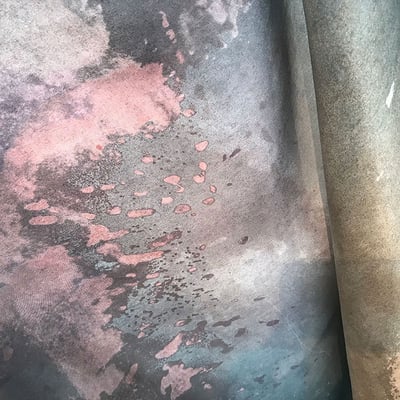 Beautiful water infused inky fabrics and artworks inspired by layers of subtle colour create an aesthetic with a sense of lightness. We really liked the way in which the colour palette and fine art approach created space and a contemplative interior ambience that connects with well-being and reflective time.
---
Rebecca Henning-Lee - Loughborough University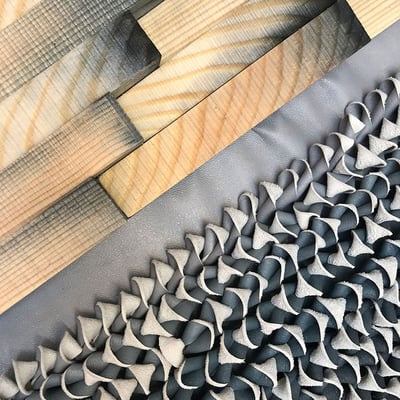 Multi-media woven forms in leather, combined with dip dyed wood, inspire greatly. Twisted, sculptural, creating shadow experiments all form exciting pattern and colour. We really liked the sustainable story and the zero-waste statement behind the collection all combined construction and 3D weave.
---
Gabriel Dolan - Duncan of Jordanstone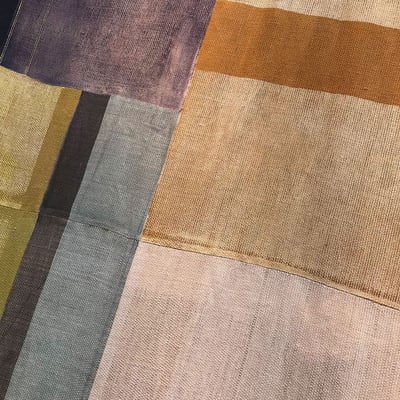 Printed layers combine effortlessly with the fabric's construction creating one aesthetic that is both very commercial and has a thoughtful colour palette.
---
Saffron Saunderson - Loughborough University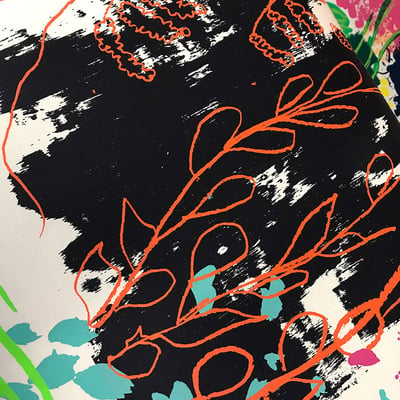 A confident use of colour inspires within this collection of work. The careful use of black makes the additional palette pop. Very commercial and of the moment, the organic graphics of floral forms juxtaposed against hand drawn lines and painted textures combined and uplift. We really loved how the whole collection read as one with the co-ordinates and statement pieces complementing one another.
---
Sarmite Lasmane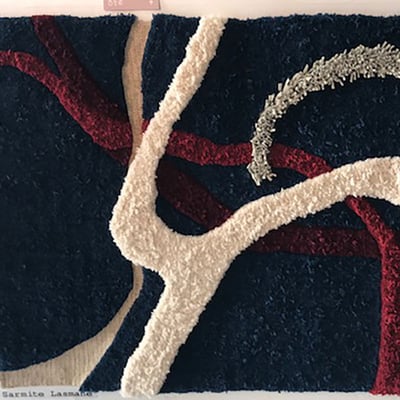 One of only a handful of hand tufted rugs we saw at the exhibition, Sarmite's work was a sophisticated mix of colour, yarns and textures. The raw base canvas became part of the finished design which created a highly tactile piece of work, we loved it!! It was refreshing to see a bold abstract rug shape/formation in addition to the traditional rectangle as part of this collection of work.
---
Marcia George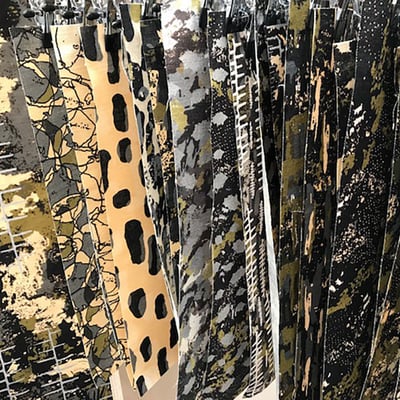 Bringing the outside inside was the theme for this collection. A biophilic colour palette combined with highly textured patterns influenced by silver birch trees. A thoughtful combination of layers, mixing 2D print and 3D textured print patterns. A very cohesive collection of fabric designs with a strong commercial awareness, supported by beautiful sketch books.
---
Elle Foreman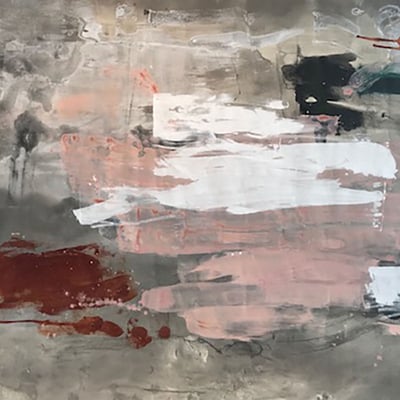 An exquisite palette of colours drew us towards this portfolio of fabrics and artwork. Layers of texture created a free-flowing painterly effect which translated into organic shapes and textures making a very artistic collection of work. Fabrics were developed into soft furnishings and embellished further with precious areas of embroidery and delicate applique. Gorgeous!
---
Leonie Violet Smith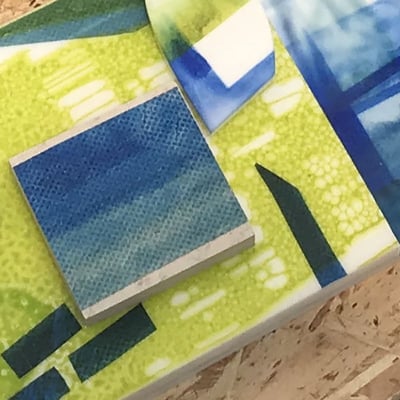 A combination of wall art and flooring designs combining geometric shapes and delicate layers of texture, all inspired by architectural structures and urban surfaces. Clever pops of bold bright colour elevated the compositions and gave a fun perspective to designs. Small scale textures delicately softened strong geometric shapes which were thoughtfully placed within designs. All of Leonie's work was supported by wonderfully detailed sketch books literally bursting with ideas, we could have spent hours gazing over them!
---
As well as using New Designers as an opportunity to showcase their work, it was impressive and inspiring to see so many students using the event to showcase themselves. Amazing talent and individuality stood out. From look-books to unique design taglines, the calibre of the individuals involved was so high. Milliken is a design-led manufacturer, constantly evolving as trends and markets change. We pride ourselves on our commitment to nurturing and supporting new talent and from what we've seen this year, it looks like the future of design is in very provocative and creative hands!