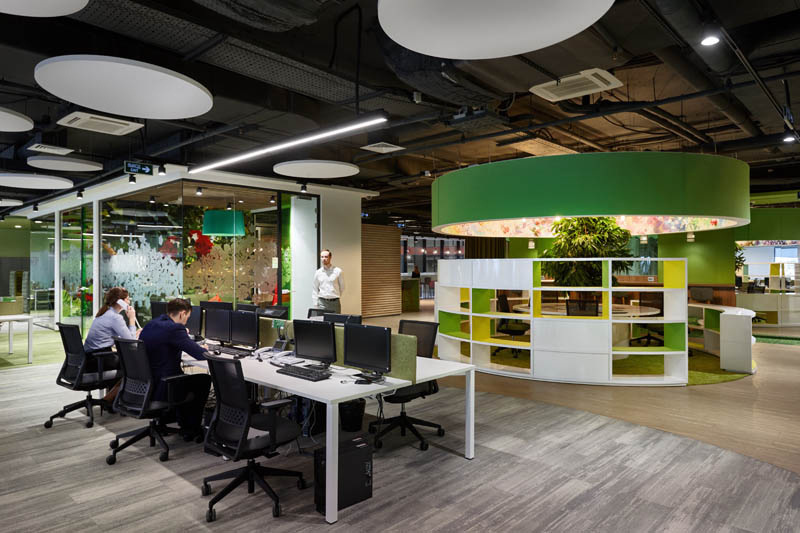 Reading Time: 4 mins
Are we just scratching the surface of the co-working movement? We've always had the idea that co-working spaces are synonymous with start-up businesses, sharing the costs and infrastructure of a communal work space, but with the rapid increase of co-working spaces in major cities, it is also interesting to learn that the format is being successfully adopted by large corporate organisations. With London trailblazing the movement, we can start to see what makes a co-working space effective and appealing. A top line conclusion is that successful co-working spaces are underpinned by understanding the occupants, how they work and putting their needs first.
As a founder member of the WELL Living Lab, Milliken has a vested interest in well-being in the workplace. As a large, corporate organisation ourselves, we have a responsibility to not only manufacture products that contribute to a healthier and happier workspace, but to also understand how the occupants of a space work most efficiently and be happy. As technology evolves, we're seeing a desire to work more flexibly and collaboratively. The shackles of being bound to a desk are loosening and workers are wanting the choice to work independently or collaboratively whilst still feeling like they belong to a community.
It's certainly an exciting time for workplace interiors, especially with health, happiness and well-being at the forefront of the conversation, so let's take a look at some of the benefits of the coworking movement:
Improved well-being
A vision of lone working or working from home can conjure romantic visions of typing at ones dining table, enjoying a cup of tea, made from your own teapot, using fresh milk, overlooking the view of your perfectly landscaped garden. The harsh reality is more likely to be long working hours where your working day encroaches into your personal life, a sense of not being able to switch off as essentially being at home means you're still at work, with often only your reflection for company. People who opt to work in coworking spaces report higher levels of wellness and work satisfaction than traditional employees do. Mckinsey's article The overlooked essentials of employee well-being covers two critical factors - job control and social support.
"Giving people more control over their work life and providing them with social support fosters higher levels of physical and mental health."
Eurosit - Paris
Carpet Collection - Tectonic.
A sense of community
As one of the concepts of the WELL Building Standard, 'community' is imperative to a healthy and happier workspace and occupants. Whether it be a celebration of culture or the surrounding community, local architecture or public art, we all have that longing to 'belong'. Milliken was delighted to recently sponsor Coworking: Past, Present and Future MixInspired event organized by MixInteriors. Tim Yendell, Head of Choice & Design at RBS, one of the panelists on the evening explained "We have learned some important lessons about what is important to an organization trying to attract people to a coworking facility. It is all about community, collaboration and learning, technology, great coffee and choice. Choice in terms of the types of space you inhabit, how you could inhabit and use them – and being part of a wider community was undoubtedly important to people."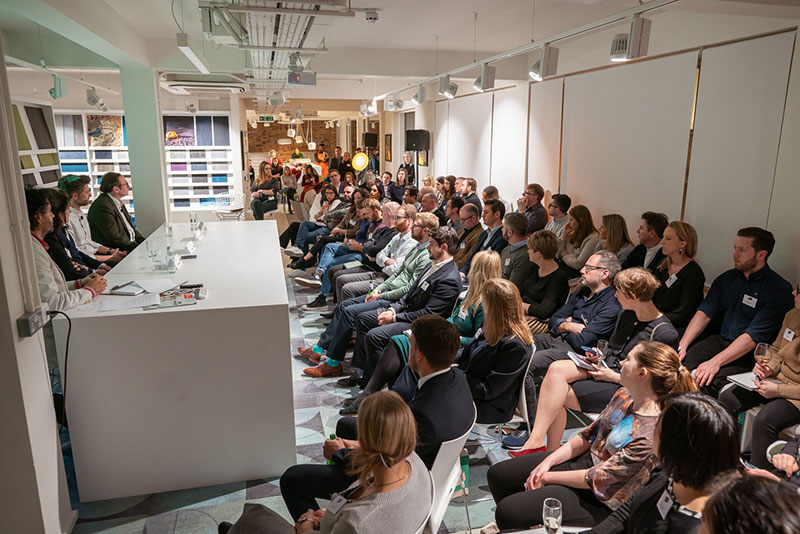 MixInspired - CoWorking: Past, Present and Future.
Milliken Showroom - Clerkenwell, London.
Increased productivity
We gain new ideas from interacting and competing with others. These interactions lead to higher levels of innovation for all. According to a study by Harvard, Why People Thrive in Coworking Spaces, people who use coworking spaces see their work as being meaningful. Without the battles of peer competition or playing the game of internal politics, workers are freed and liberated to literally get on with their work.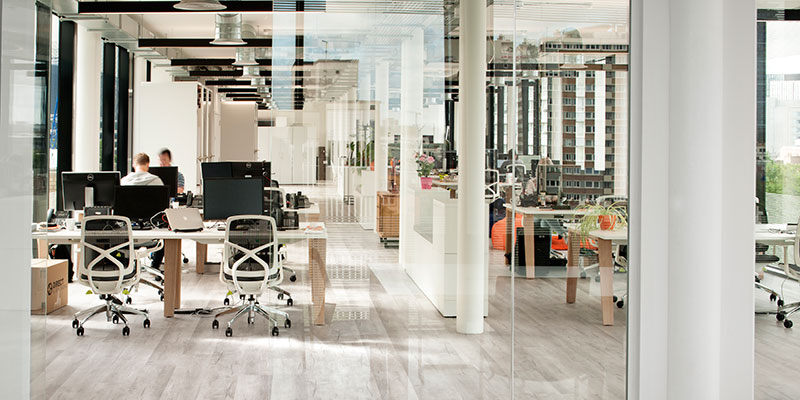 Business Cube - London.
Collection - Freelay Hertiage Wood.
Flexibility
Some people excel in loud, vibrant open plan spaces, others prefer seeking solace from solitude. In a world made up of introverts and extroverts why do we find it acceptable to place everyone in one room and expect tremendous results from both the individual and the business? Coworking enables flexibility in every sense of the word, offering the opportunity to work remotely from a different country, different room or just a different desk, as preferred by the individual.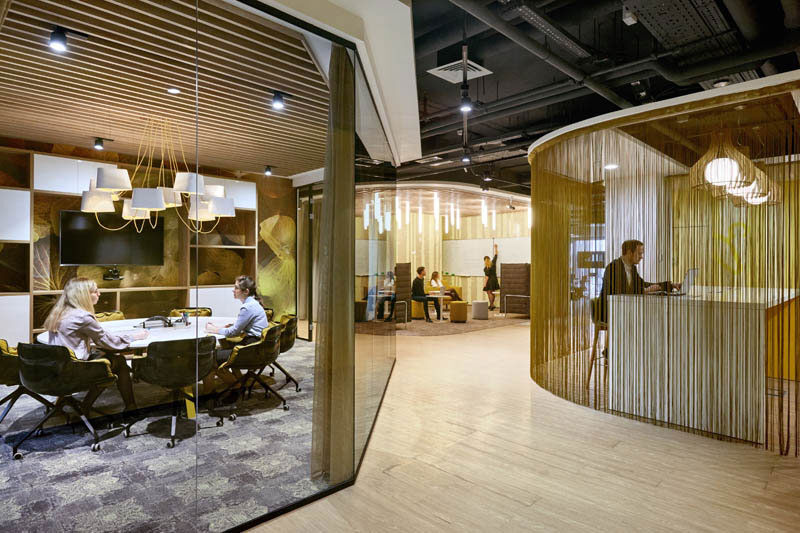 Sberbank - Moscow
Carpet Collection - Artistic Liberties.
Attracting new talent
There is a huge expectation on what today's office space should look like; gym facilities, showers, access to superior technology, a creative, contemporary environment…the list goes on. Large corporates are recognising this fact and suddenly a coworking space becomes very appealing, not only to the new, super-talented bods as we give them access to their workspace wish list, but to their employer also, reducing their physical footprint through facilitating this flexible way of working. We're living in a time where we don't need to 'own' tangible items; iClouds, streaming, shared drives and now shared spaces!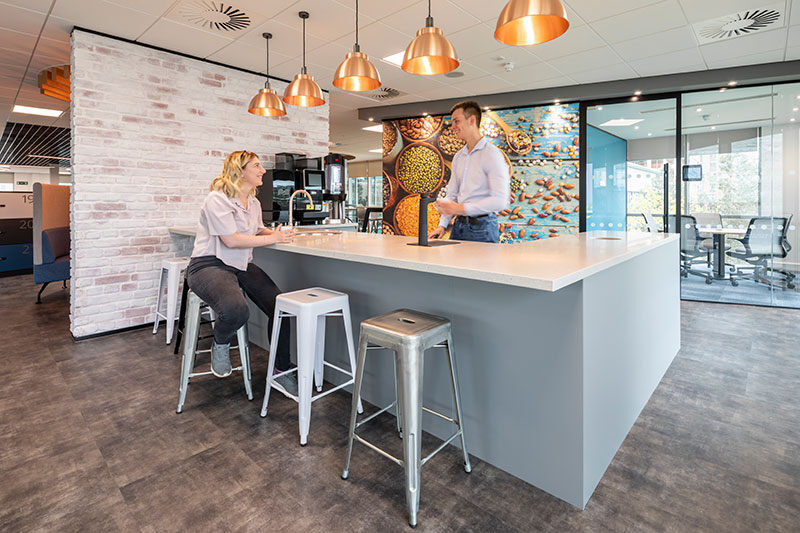 Bühler - London.
Carpet Collection - Freelay LTV, Polished Concrete.
Have we seen the death of the desk as we know it? Let's watch this space! To celebrate #internationalcoworkingday tell us how coworking has benefitted you and your business
Header image - Sberbank - Moscow
Carpet Collection - Colour Compositions.