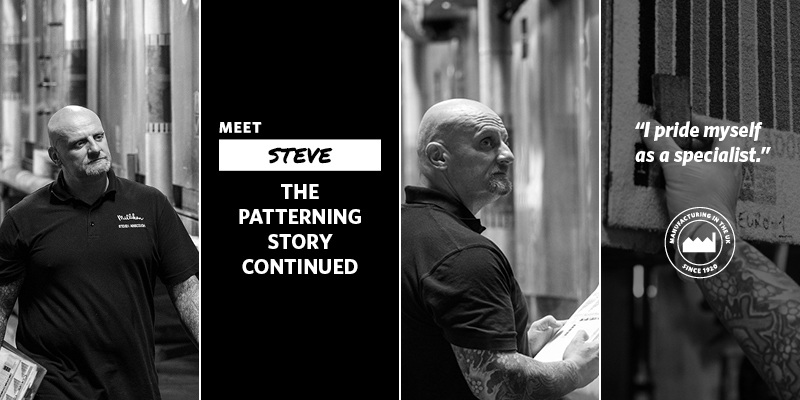 Meet The Maker: Steve Ainscough
Job title: Millitron® Design Technician – AKA The Pattern Pro
Having spent time operating in and leading the print department, Steve now heads up technical support for Milliken's Millitron patterning technology.
Time at Milliken: 24 years
Role: I don't want to blow my own trumpet but I'm a bit of a print specialist. I started on the bottom line as a tile inspector, then I moved my way into tile certification, where we do a lot of testing of the tiles, then I moved into dye services (where the dyes are made), then became a print operator, then I ended up as a print facilitator which is like a supervisor's role.
What I like about Milliken: I like getting involved with making the new products. It's good that I've got a hand in that. Plus I work with some great people. It's a good place to work.
Philosophy: I treat people how I want to be treated.
Outside of work: I'm a keen motorcyclist, I have a couple of bikes. I've got a sports bike and I've got a cruiser, so I've got the best of both worlds. I can do quite a lot of miles on the weekend and sometimes I'll strap a tent on the back and take off for the weekend.
100 years of making in the UK: It feels pretty good when you look back at it. Milliken has come a long way and managed to keep going well. It's got bigger: there are more processes and more tufters and quite a few more people. I've always been based at Beech Hill, Wigan. I first started off as a builder, when I was 16, I'd just had a son and the building trade was in a bad way at the time and I kept getting laid off, a couple of weeks here and there and then I got laid off just before Christmas, so I signed up to an agency, started here in the September 1996 and the rest is history.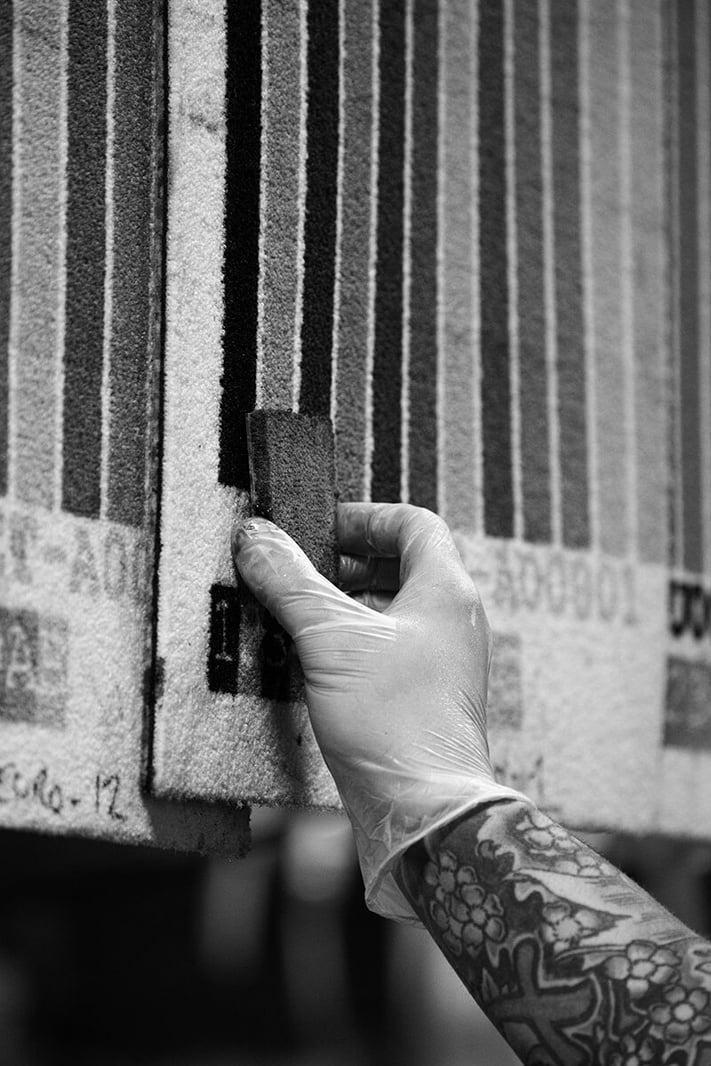 Dream installation: I'd like to see Milliken flooring being made at Milliken's Live Oak factory in Georgia, America to be honest. I'd like to go and look at their print systems, just to swap ideas, some things we'll do better than them and somethings they'll do better than us.
Musical motivation: I'm into my rock and metal music. I like all rock and metal to be honest. In the factory it's probably just going to be a normal music channel but in the room where I work half of my time I usually have Planet Rock on.
Best thing about Wigan: I live in Wigan and am quite local only about 3 miles away from the factory. I've lived in Wigan all my life – 47 years. The best thing about Wigan is the people, the people are just real, "a spade's a spade" as my dad used to say. I've always liked Wigan, I'm a bit of a home bird.
Biggest achievements: My kids mean the world to me, I think they're my biggest achievement if I'm being honest. I've got a son who's 25 and I've got a daughter who's 19. My daughter's just gone to University, studying journalism and my son runs his own distribution company. They're doing well so I think that's probably my biggest achievement.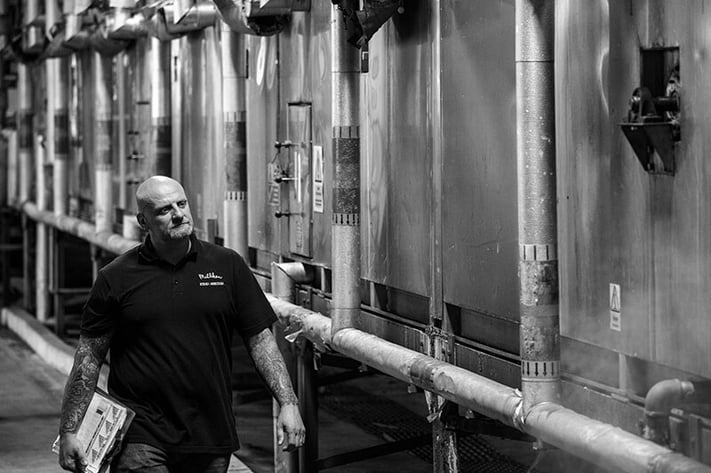 Opportunities: Milliken give you a lot of opportunities to move up and do different things and they're quite good with the pension and the pay's quite decent.
Teamwork: I work with a really good bunch of people. I was made to feel welcome right from the start. Milliken is big on anti-bullying and stuff like that. They win awards for being the most ethical in the world, they won't accept anything like that. It is a good place to work; well I've been here nearly 25 years!