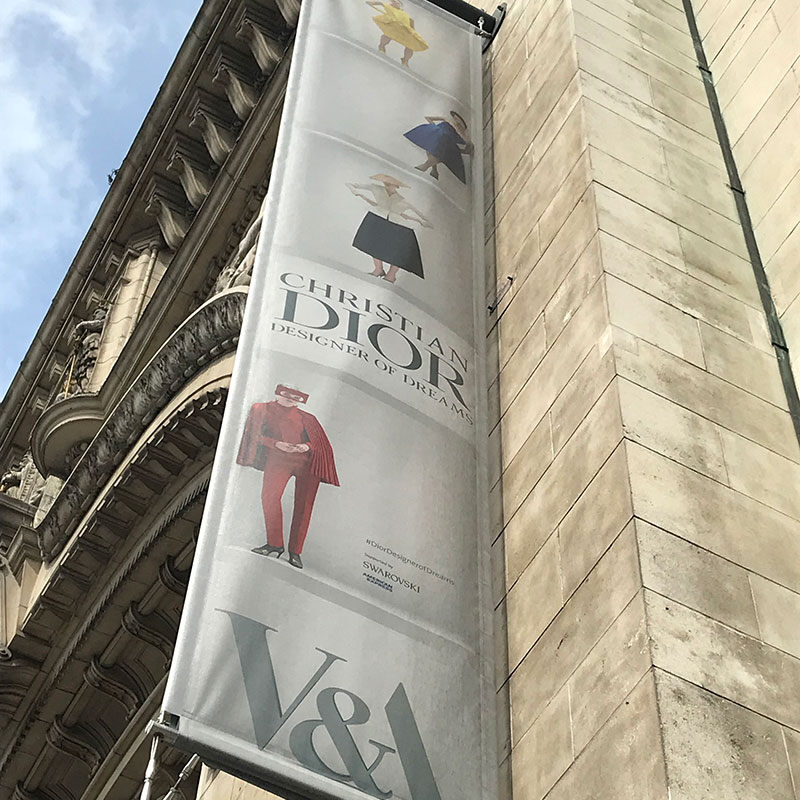 As the V&A prepares to close its doors and the last of its visitors hold their golden tickets to catch the final dates, the Christian Dior – Design of Dreams exhibition must have been its most successful exhibition to date. Standing alongside the Alexander McQueen – Savage Beauty exhibition of 2015, it marks the public's obsession with fashion, history, brands and the snowball effect of our must-see culture.
An in-house Milliken designer by profession, I'm never far from my work, always on the lookout for the inspired and the inspiring. The visit of an exhibition can be the start of a future carpet collection. Inspiration is not always found in obvious places, sometimes it's just a quotation that starts the ideas coming. "Midnight blue is the only colour that can ever compete with black." Christian Dior.
One of the lucky ones, I attended the Design of Dreams exhibition on an early Sunday morning.
I presumed it would be quiet, still, people free. That I would have time to consume the written story and indulge myself in the exhibition. How wrong could I be. I was not alone, far from it.
The exhibition is delivered not with the predictable historic time-line but as stories with narrative staging, not too dissimilar to our own design collections here at Milliken, setting the scene. Guided with a flow, you enter the worlds of Historicism, Travels, The Garden and finally The Dior Ball, where recent Creative Directors sit alongside classic Dior himself. Enhancing and interpreting the original ethos of Dior, the exhibition celebrates with storytelling and a fashion house journey.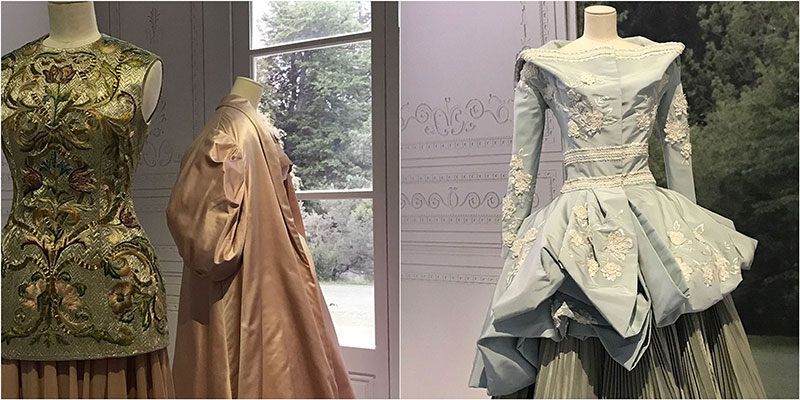 Historicism sings couturiers, toile de jouy, 18th century references, Versailles inspiration and dramatic silhouettes. Modern designs with a historical whimsical connection.
Coat dresses, Swarovski crystals, gilded thread, feathers and silk satins are John Galliano modern although chronicled in the past.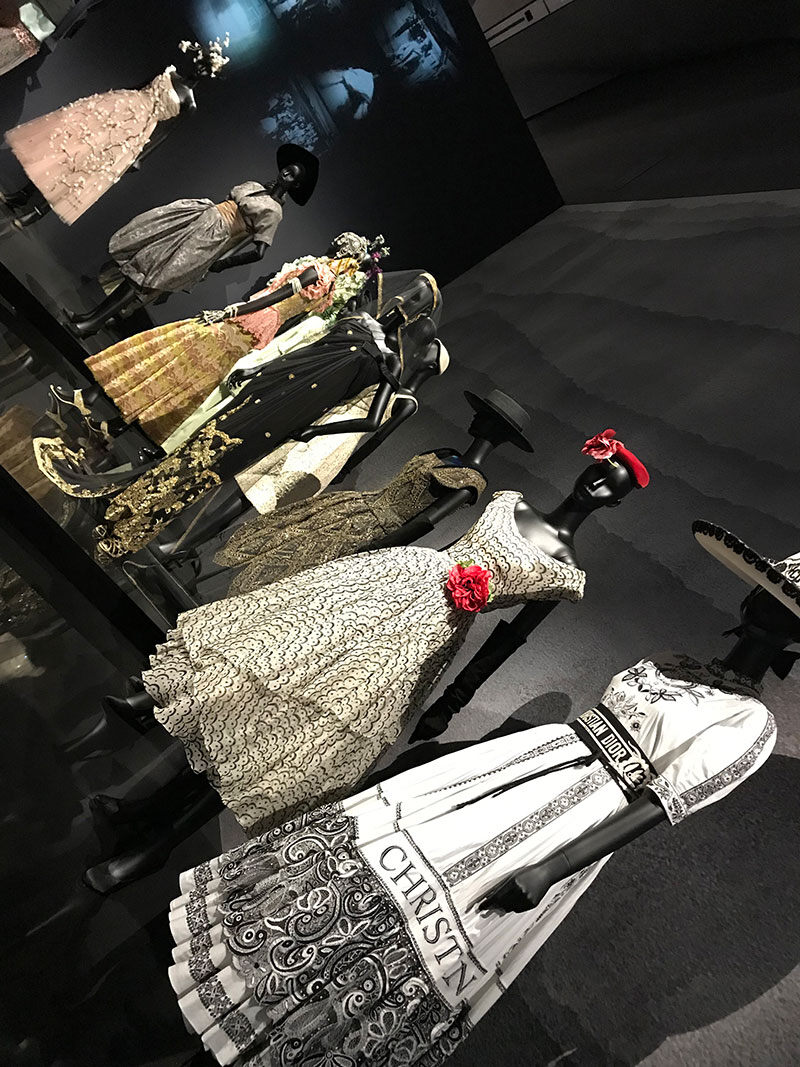 As I walked into Travels it isn't predictable; rather appreciation than appropriation with a conscious and considered use of influences. Reflecting current times and issues, the outfits are inspired by architecture, landscapes, art and the textiles of many different countries. Questioning global affairs, the recent designers are empowered by the influences of change in our world and the making of a truly global brand. Dark and rich, the colour palettes are deep with the saturation of culture. Silhouettes that touch upon Japanese, Spanish, Indian and South American influences extend the brand to places and the women of the world.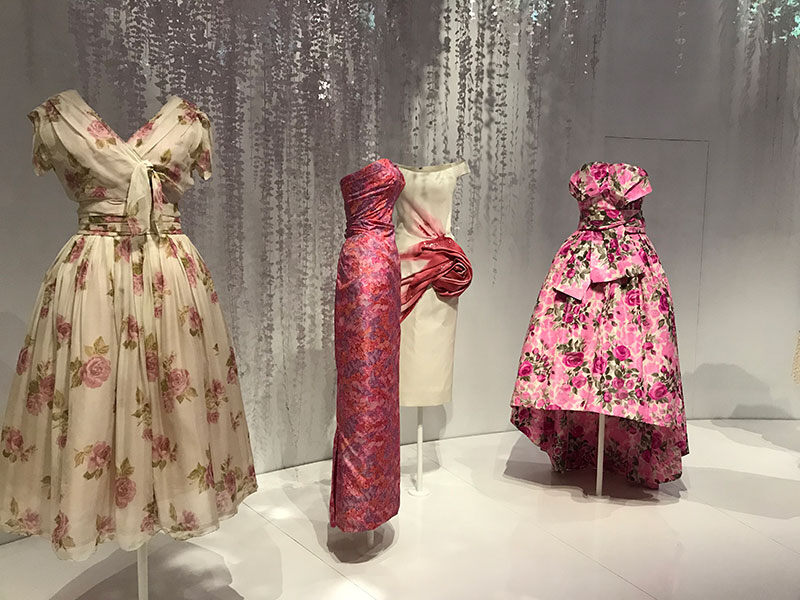 The Garden and its returning theme for all the Dior Designers is calm and fragrant. Hundreds of paper flowers adorned the ceiling and walls, scented with a reflection upon the floral Dior fragrances. We are invited to spend time in the family garden at Granville that Dior as a boy loved and his mother Madeline cultivated. This space is light and fresh, moving on from the cultural depth of Travels. Lily of the valley is his favourite and its recognisable silhouette is repeated in embroideries, jewellery and garment forms. Light green sprays of flowers and bold strokes of rose pinks are celebrated and interwoven between layers of tulle re-creating the Spring and Summer calendar months.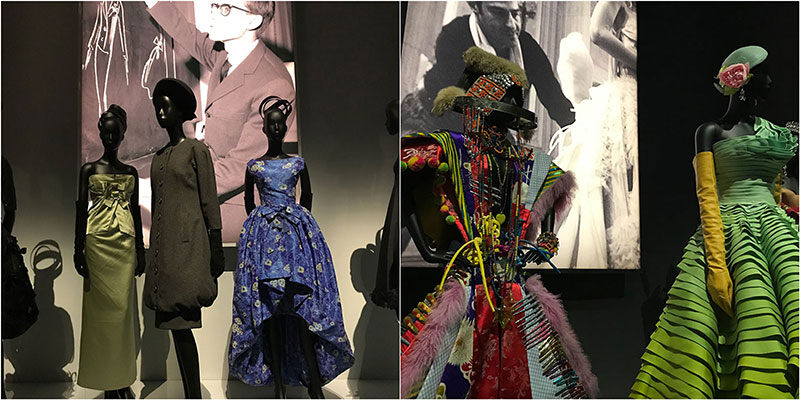 The Designers for Dior tells the tale of the six key creative directors. Yves Saint Lauren, Marc Bohan, Gianfranco Fierré, John Galliano, Raf Simons and Maria Grazia Chiuri. With their own personalities they have all been carefully selected to enhance upon the designer before. Different eras have created different fortunes, some learning from the master, others classical, controversial, emotional and then a female role.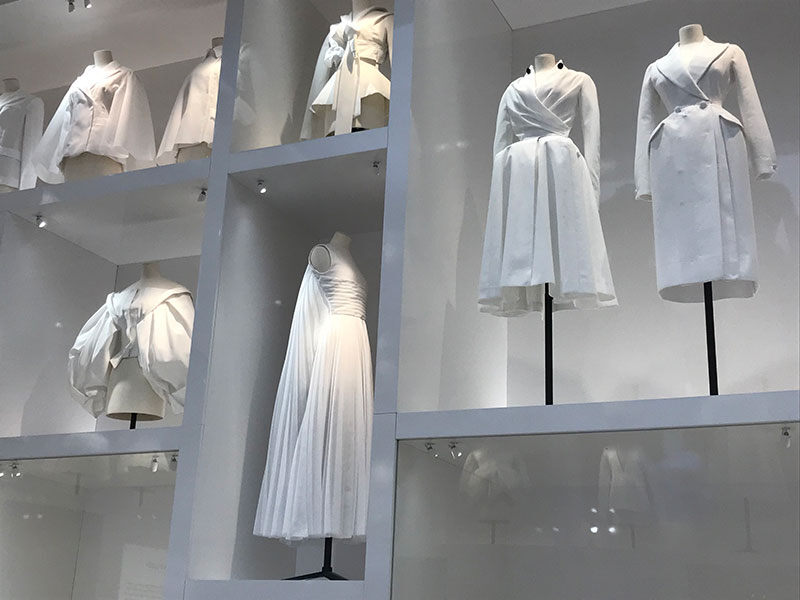 Then the Ateliers are revealed, the heart of Dior we are told. Seamstresses turn sketches into finished collections. Toiles stand stripped bare, without colour, stitches visible, darts and seams in black cotton. Mark making at its best. Cotton fabric, prototypes, shape and fit experiments.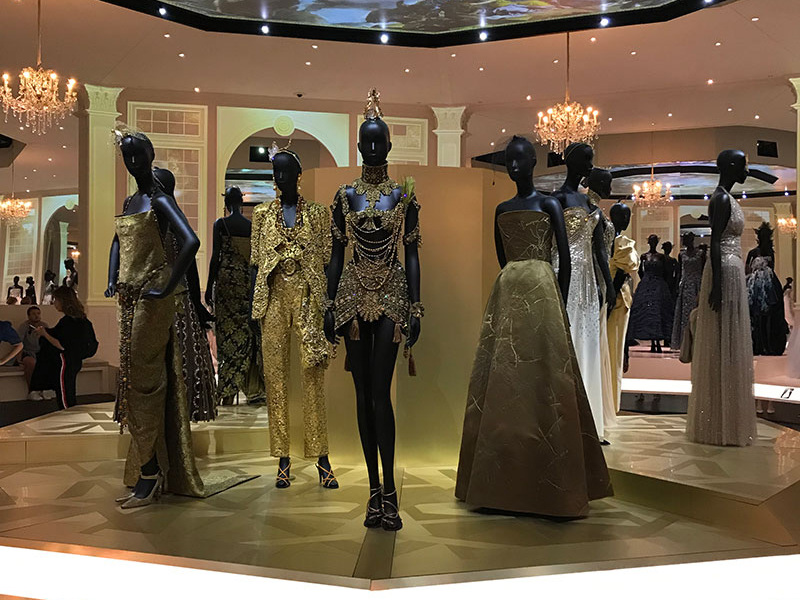 Finally, as I walked through the rooms of stories you are invited to The Dior Ball, a huge space, that changes from day into night. An enchantment of dance, red carpet, extravagance and costume. Evening wear indulgence and imagination. The crowds caught up with me and filled the space, a room big enough to hold all of us and our mesmerized eyes.
The exhibition quenched my intrigue. Its theatrical experience was social media worthy, every frame glossy and formatted like a page from Vogue. There was a noticeable absence of Dior menswear and it was easy to forget at times the brand we see today, with all its celebrity ambassadors, skincare, make-up lines, media campaigns, Dior baby, leather goods, fashion accessories and footwear. It's a far nicer place to be, imagining the ateliers every stitch and Parisian haute couture with sketches, toiles, draping, intricate embroidery and fairy tale allure. I prefer the romance.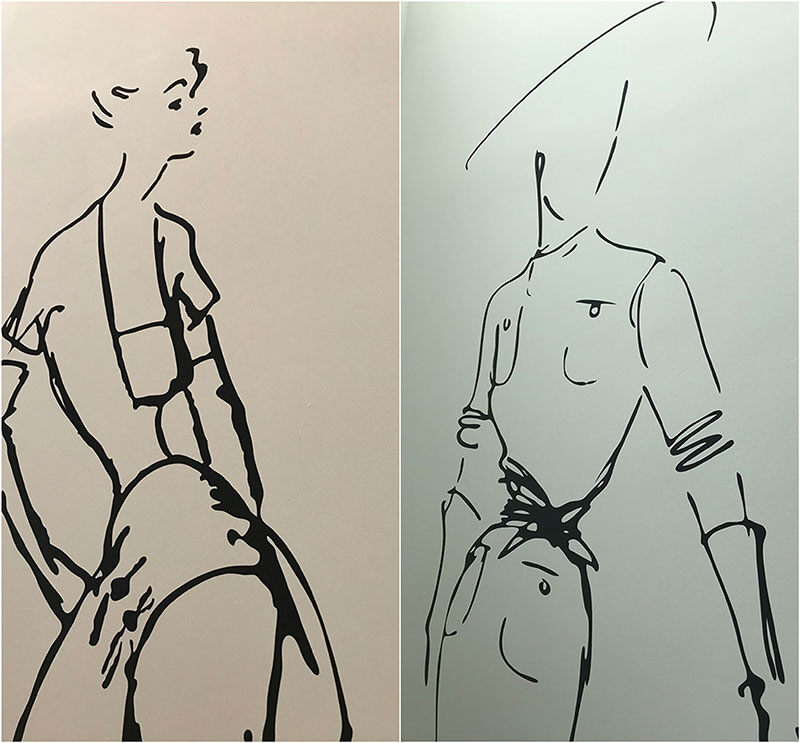 How will I find inspiration for future carpet collections from this exhibition? Maybe a nod to the Milliken designs of the past is something to consider, older designs sitting alongside new interpretations? You could say that our collection 'Artistic Liberties' has already ticked that box but maybe there is more history in Milliken's vaults that needs to see the light?
My visit to the exhibition highlighted with certainty, that Milliken's design differential in our story telling and scene setting must continue, as the anticipation builds for our next big collection.
Limited tickets to the exhibition are still available: click here to find out more!
Have you visited the exhibition? Connect with us on social media and tell us your review?