How do I choose the perfect flooring colour? This question gets asked a lot by people who are renovating their spaces. Interior designers, decorators and architects study long and hard to master the art of colour matching; but not all stakeholders have that advantage. This can sometimes make this quite a daunting task when trying to find the perfect flooring for a renovation project. However, it doesn't have to be.
In this blog, we are delving into how to find the perfect floor colour, alongside covering key points you need to consider before starting your project. Including quality, price, texture and of course - colour. Whilst these factors can differ depending on your property, the project scope and prior experience; they should always be taken into consideration - so you can feel confident in choosing the best floor covering for your project.
Start by defining your desired interior design style
Curating your desired interior design style is all about the aesthetic of the space. When curating your space ask yourself: what kind of environment do you want to create? Most recently we have seen a shift to 'safe spaces', spaces combining safety features and employee wellbeing, that also include sustainable elements like artificial greenery. This is aimed at creating a soothing and environmentally friendly space; that is arguably beneficial for any setting.
It's also important to establish your colour palette. Once you have created this; you can choose flooring in your desired materials with the aim of still meeting your budgetary requirements. Read up on how the Milliken Design team explores colour for inspiration on this.

There are many ways to visualise your renovation or project to see what combinations work. Consider using a 3D visualiser or similar service to bring your ideas to real life.
Consider all the aspects of your floor and space
It's important you understand the advantages and limitations of your space. As the colour and texture of the floor you choose will impact the size of your space.
For example, light has a significant impact on space, so the more natural light you have running into your space the more you can play with darker tones in your flooring. If your space is small or angled; however, you may want to consider lighter shades that promote spaciousness.
If you want to curate a space that has a cohesive feel, try choosing colours that run throughout the interior. Or alternatively, you can choose floor colours that complement the wall colours, this provides a curated look that showcases your desired look and feel.
You should also consider the functionality of your space in the flooring design process. If you have high traffic areas you will need something durable. Or perhaps you need flooring with sound absorption for quieter areas? Then cushion backed carpet tiles may be a good option.
Alternatively, if you are looking to renovate entrances and reception areas with entrance matting systems; then this should be taken into account when deciding the interior for your ground floor and/or your entire building.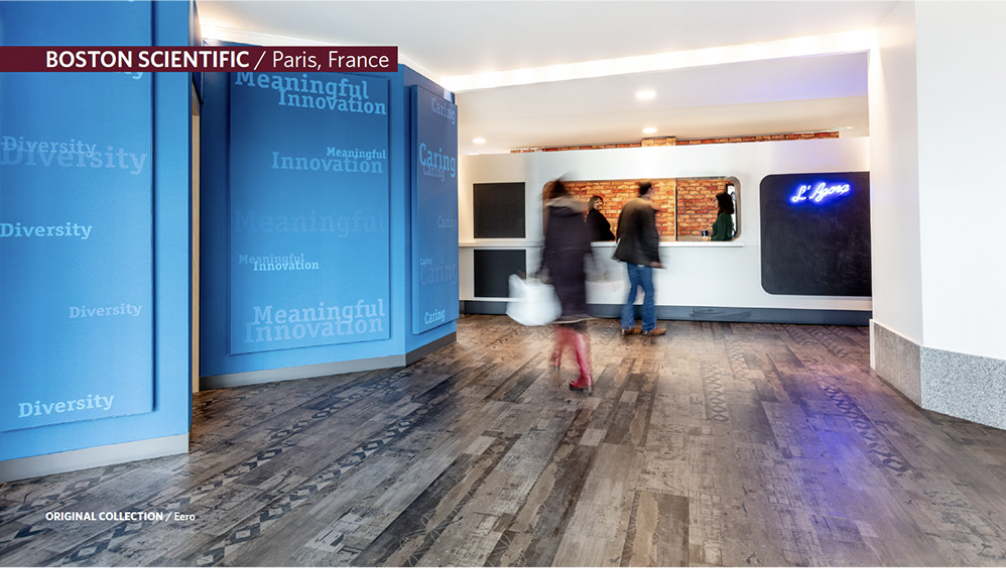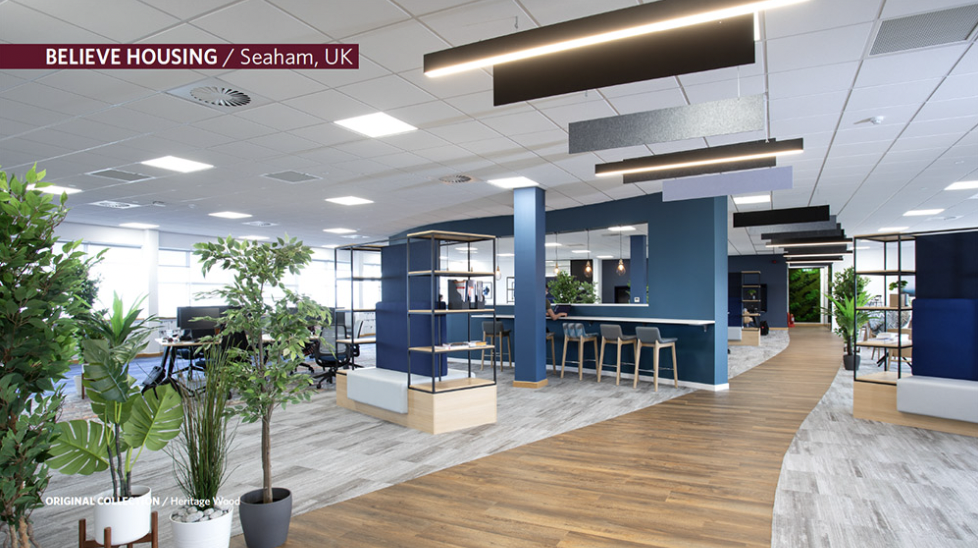 Consider the interiors of your whole building
When taking on a renovation project in an existing space, it's important it matches the feel and colour scheme of the rest of the building. If this is the case for your project, consider if there is a broader building design that you want to highlight in the space you're renovating. For example, within a commercial setting, you may want a more cohesive design that has a higher emphasis on uniformity and durability. For those in the hospitality industry, there may be set design guidelines in terms of functionality, material and durability you might need to follow. Consider how this would work in your industry.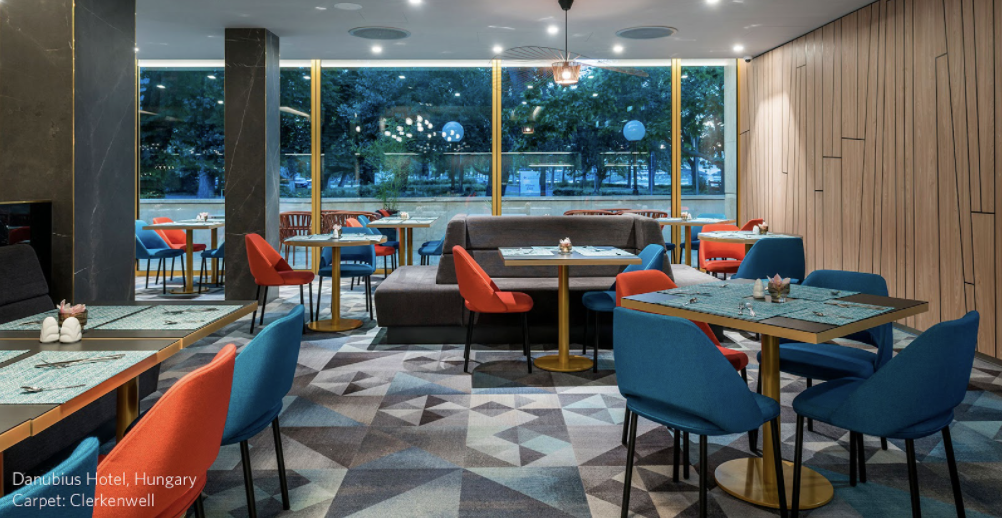 Define your colour palette to complement your flooring
When choosing your flooring colour, consider the existing colour palettes and textures. For example for workplaces, what is the colour of your furniture? Do your light fittings have warm tones or cool tones? Try to complement these design elements. We recommend not matching the colour of your floor to the walls. This can look very overwhelming and potentially unwelcoming for visitors in a commercial setting. However, you don't want to have too much contrast as this will look very busy and take away from the original design - it's all about balance.
For example, if you are replacing flooring for a college or university within communal areas as part of a project, you might want to promote positivity and concentration. Therefore bold, light colours may be the right choice. However, for quieter areas like libraries you may want to opt for light blues and light purples. This helps reduce stress whilst increasing productivity; this could also be effective in areas such as student libraries, lecture theatres and computer labs.
On the other hand, within hospitality settings, such as hotel lobbies and guest rooms, interiors should have a more colourful and vibrant atmosphere. With the use of bright yellows, hued reds and turquoise blues. Curating an inviting and warm environment, that helps guests feel right at home.
Think about the feeling you want to evoke in your space
Design plays a big part in how we feel and our emotions, and this is no different when it comes to flooring choice. For example, if you want to evoke a quiet, calm and relaxed environment; consider flooring ideas that include designs with pastel tones in commercial carpet. These are most effective within office spaces and educational settings. Helping those within the building feel stress-free, peaceful and relaxed.

If you want a more vibrant and lively atmosphere why not consider commercial LVT; a great option for durability, it often comes in many designs and styles. Take a look at our product catalogue to explore LVT and carpet ideas in curated collections.

If you would like more information, reach out to a specialist and contact a rep in your area for more in-depth specialist advice on your flooring for your project.