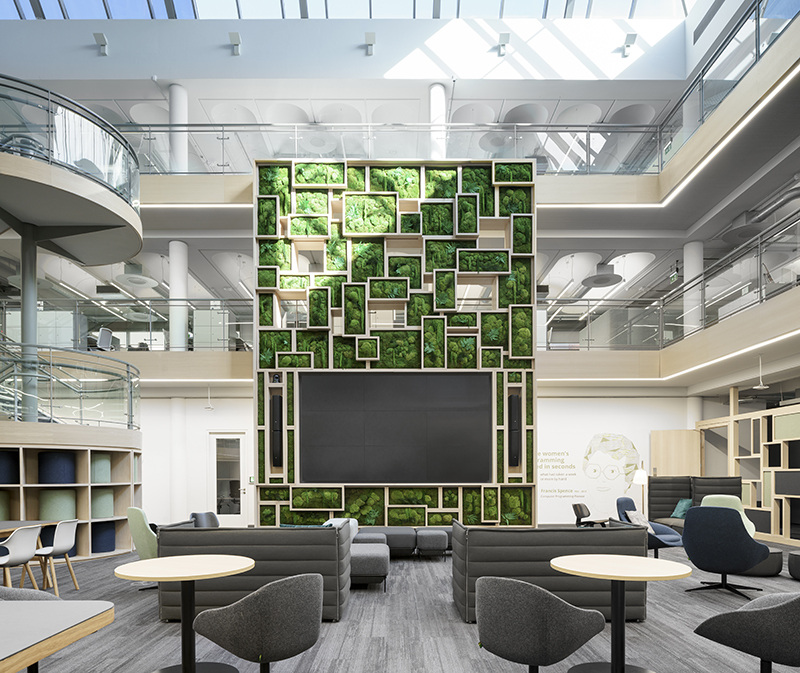 Reading time: 5 mins
Until recently if you were to describe a green office, it would most likely be the sustainable aspects of the structure. This might incorporate the building's energy saving features such as lighting and heating, how it is designed to reuse and recycle waste and to reduce water consumption. An increasing body of evidence is now focusing on the wider benefits a sustainable workplace can have on the health and well-being of its occupants. Ways in which the work environment can sustain people as well as place.
Creating a healthier and happier workplace.
In April 2018, the World Green Building Council produced a ground-breaking study which reported on the improved levels of occupant satisfaction when companies included specific health and well-being features in the design, materials and layout of their offices. Doing Right by Planet and People: The Business Case for Health and Well-being in Green Building includes a series of case studies of facilities from around the globe. All of the sites have one or more green certifications, including LEED, Green Star and BREEAM but the study found that by concentrating on also providing specific health and well-being features into green-certified buildings, levels of employee absenteeism was reduced, operating costs were minimised and employees felt more productive and healthier.
Reading through the examples it is clear that the health and well-being ideas that were integrated into the facilities, for instance, enhanced fresh air ventilation, acoustic privacy, increase of daylight penetration and use of biophilic design elements such as green walls and extensive indoor plants, has had a significant impact on people's health and performance.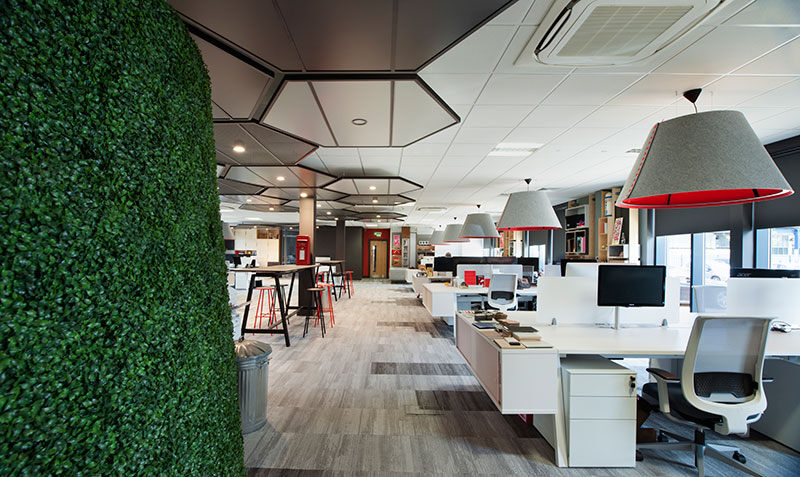 Office 12 - Leicester.
Collection - Glazed Clay.
All of the studies include pre- and post-occupancy surveys which provide an evidence base into the effectiveness of designing in well-being. For instance, at engineering consultant Cundall's new offices in London, improvements to the quality of the air and lighting. This included the continuous monitoring of carbon dioxide (CO2) and volatile organic compounds (VOCs), along with the installation of a recycled reflective flooring. This has led to a 20-30% increase in daylight penetration, reducing the need for artificial lighting. For Cundall, this resulted in a reduction of four sick days per year per employee and a 27% reduction in staff turnover.
Designing spaces for real people.
Real Estate firm Stok's new offices in San Francisco also boasts VOC free materials in the interior paints and coatings, the ceilings, walls, thermal and acoustic insulation and all of the flooring. But the design and layout of the building was a key component in the organisation's success in reducing sick days by a quarter. The office design split the 'heads-down' working area away from other collaborative, training, and social areas within each of the floors, to ensure those who need quiet to concentrate aren't disturbed and collaborative teams are free to interact without causing disturbance.
The case studies demonstrate how these employers are waking up to the need to design in well-being. A growing number of corporates are signing up to the rigorous requirements of the International WELL Building Institute™ standard. This aims to achieve what BREEAM did with sustainability and become the goal to which workplaces aspire that want to demonstrate how their working environment can enhance occupant's health and well-being. Deloitte's new UK and North West Europe headquarters in London has for example, attained WELL Certified Gold – based on seven categories of building and operational performance including air, water, light, nourishment, fitness, comfort and mind.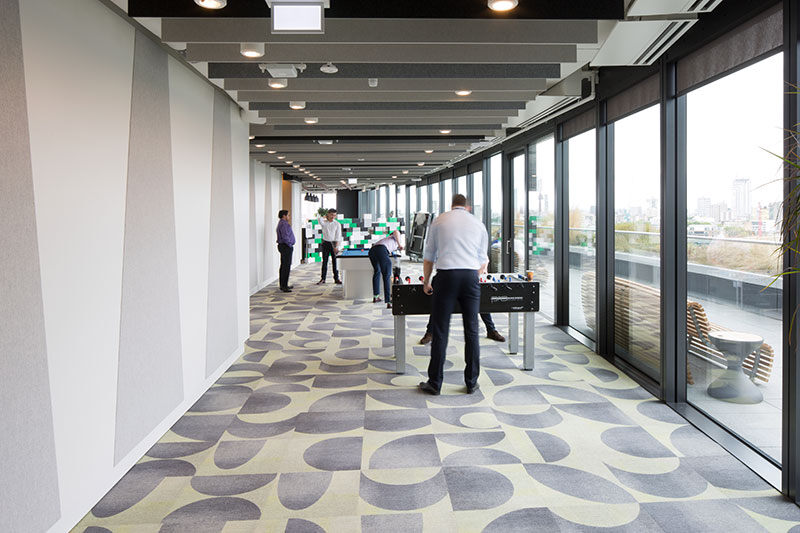 Deloitte - London.
Collection - Clerkenwell.
Unfortunately, a lot of workplaces still have some way to go to get anywhere near the requirements of WELL Building. A recent report from construction firm Mace and its facilities management arm Mace Macro found that one in five UK workers are putting up with poor or inadequate office and work environments. Disruptive colleagues, no natural light, a lack of coffee and tea facilities and noisy offices were some of the factors cited in the report.
In a critique of existing Health and Well-being measurement and certification, and the most recent and relevant medical evidence on the topic, the British Council for Offices (BCO) has produced a report which helps explain why taking a proactive approach to designing in well-being when fitting out or refurbishing a workplace can provide tangible benefits. Wellness Matters: Health and Well-being in offices and what to do about it predicts that legislation and standards will – like sustainability before it – ensure that even reluctant employers adopt well-being strategies.
However, as the examples above prove, organisations that take a proactive approach now, and invest sooner rather than later in designing in well-being, will reap the rewards with fewer sick days and higher levels of engagement and productivity.
Milliken is a member of the Well Living Lab, click here to learn about our well being philosophy.
Header image: New Relic, Dublin.
Carpet Collection - Colour Compositions.